Will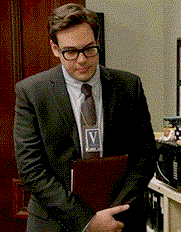 Played by
Nelson Franklin
Will is an Congressional aide to Roger Furlong, who first appears in the Season 1 finale Tears and often appears in episodes in which Furlong appears. He is the most direct source of Furlong's constant verbal abuse, most memorably being called a "four eyed failure" and compared to "a condom full of fireants." Will seems to numb to the abuse, probably from prolonged time spent working with Furlong.
In Tears, Will appears to have had a previous working relationship with Dan Egan as the two are familiar with each other. The nature of their previous work together remains unclear.
In The Eagle it is revealed that Will is married after Mike's dinner reservation is stolen by Furlong who is taking Will and his wife Mary out for their anniversary.
In the season 5 episode Congressional Ball it is revealed that Will has been working for Furlong since he was 15 and actually enjoys his job.
In a Kissing Your Sister deleted scene, it is revealed that Will has secretly been planning Roger's death and would make it look like an accident.
In Omaha Furlong mentions Will has a wife, a part of whose anatomy he compares to string beans.