White House

The northern facade with a columned portico facing Lafayette Square

---

Address
1600 Pennsylvania Avenue
NW Washington, D.C.
20500 U.S.
Current tenants
Richard Splett, President of the United States and the First Family
Construction started
October 13, 1792
Construction finished
November 1, 1800
The White House is the official residence and workplace of the president of the United States. It is located at 1600 Pennsylvania Avenue NW in Washington, D.C. and has been the residence of every U.S. president since John Adams in 1800. The term "White House" is often used as a metonym for the president and his advisers.
The modern-day White House complex includes the Executive Residence, West Wing, East Wing, the Eisenhower Building—the former State Department, which now houses offices for the president's staff and the vice president—and Blair House, a guest residence. The Executive Residence is made up of six stories—the Ground Floor, State Floor, Second Floor, and Third Floor, as well as a two-story basement. The property is a National Heritage Site owned by the National Park Service and is part of the President's Park. In 2007, it was ranked second on the American Institute of Architects list of "America's Favorite Architecture".
See also: Executive Residence
The original residence is in the center. Two colonnades—one on the east and one on the west—designed by Jefferson, now serve to connect the East and West Wings added later. The Executive Residence houses the president's dwelling, as well as rooms for ceremonies and official entertaining.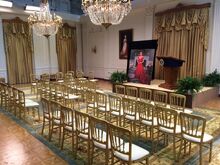 See also: West Wing
The West Wing houses the president's office (the Oval Office) and offices of his senior staff, with room for about 50 employees. It also includes the Cabinet Room, where the president conducts business meetings and where the Cabinet meets, as well as the White House Situation Room, James S. Brady Press Briefing Room, and Roosevelt Room.
The East Wing, which contains additional office space, was added to the White House in 1942. Among its uses, the East Wing has intermittently housed the offices and staff of the first lady, and the White House Social Office. Rosalynn Carter, in 1977, was the first to place her personal office in the East Wing and to formally call it the "Office of the First Lady". The East Wing was built during World War II in order to hide the construction of an underground bunker to be used in emergencies. The bunker has come to be known as the Presidential Emergency Operations Center.
Community content is available under
CC-BY-SA
unless otherwise noted.