Thomas James is an American politician who served as a United States senator from Connecticut for two terms from 2001 to 2013. James was the nominee for his party for vice president of the United States in the 2016 presidential election.
Elected to the Senate in 2000, James has a reputation for being straightforward and honest but is willing to bend the rules in order to obtain what he wants.
In July 2016, Selina Meyer announced that she had selected James to be her vice presidential running mate in the 2016 presidential election, and the 2016 National Convention nominated him. The electoral college tied, resulting in a contingent election, where Laura Montez was chosen to become president over James.
After the election, James became the C.E.O. of Jamestown Capital. In March 2019, he announced his candidacy in the 2020 presidential election. He withdrew his candidacy the following year. James received widespread condemnation in July 2020 after allegations arose of sexual misconduct from his chief of staff.
James has a reputation for being straightforward and honest but is willing to bend the rules in order to obtain what he wants. James does have several unpopular opinions such as believing that a spree shooter who turns out to be an ex-Marine is a victim as well, a view he accidentally lets slip to public backlash. He also believes in the legalization of all drugs though he is careful to keep this opinion to himself in order to maintain his political career.
James has one son who was a war hero who was injured overseas and suffered some sort of spinal injury. At the time when Selina asks him to join her on the ticket as her vice-president he is returning to politics after a four-year absence, presumably time he took off to take care of his son.
Prior to serving in the Senate, James served in the House of Representatives. In 2000, James was elected to the Senate. He was sworn in on January 3, 2001.
Early into his first term, James and Selina Meyer, both senators, would share a sexually charged moment after the "Sharply debate", which James would later refer to as "the night of the green shoes".
James ran for re-election in the 2006 midterm elections and won. He would be sworn into his second term in 2007.
James left politics and would not seek a third term in order to take care of his son, Ryan, who was injured overseas while fighting in the military.
2016 vice presidential campaign
[
edit
|
edit source
]
At the 2016 National Convention, Vice President Andrew Doyle announced that he would not be running for re-election with Meyer in the upcoming presidential election. Amy Brookheimer was the first to suggest him as Meyer's running mate, in response to Bill O'Brien picking Laura Montez as his VP. Meyer was reluctant to choose him leading to Brookheimer's nervous breakdown and subsequent resignation as campaign manager. Meyer eventually asked James to join her and he accepted.
Meyer later revealed that the reason she was reluctant to pick James was because they almost slept together twelve years earlier and she believes there is sexual tension between them, something James seemed unaware of.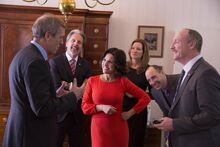 On the campaign trail, James' popularity and charm caused him to overshadow Meyer. Meyer thus wanted credit for choosing James as her running mate.
Following a shooting in Pittsburgh in September 2016, James drew criticism for referring to the gunman as a victim too. James walked back his statements and offered a heartfelt apology to those he offended. His sincerity shocked members of Meyer's campaign.
James testified before a congressional committee in October 2016 following the defeat of the Families First Bill and whether or not the Meyer administration used lobbyists to get the bill to fail.
On the night of the election, James used his status within the campaign to negotiate a position as Treasury Secretary while simultaneously serving as vice president. Meyer was offended by his proposition. After the tied election revealed that there was a possibility he could become president, he disregarded Meyer and went to speak at the crowd at her rally. He later asked her to be his vice president if he ever does become President.
In the aftermath of the election, Meyer and James' relationship became more adversarial. In response to James' actions on election night, Meyer assigned James to be Economy Czar, tasking him to deal with the stumbling economy. In December 2016, on the brink of a total economic collapse, James tried to persuade Meyer to bail out the bank belonging to E.M. Wheelwright CEO Charlie Baird. Meyer had been publicly engaged in a relationship with Baird since November. Fearing of the blowback of Meyer bailing out her boyfriends' bank, Meyer decided to let it file for bankruptcy.
In December 2016, senior members of Meyer's administration discovered that James was working behind the scenes in order to manipulate the upcoming vote in the House of Representatives to result in a James presidency. Meyer confronted James at the White House Congressional Ball. After a heated argument, James and Meyer had sex in the Green Room of the White House.
On January 3, 2017, James was ultimately successful in manipulating enough congresspeople to abstain from the House vote, leading to a vote in the Senate where vice president-elect becomes president. The vote in the Senate occurred on January 5, and despite James being favored to win, Vice President Andrew Doyle awarded the presidency to O'Brien running mate Laura Montez. Doyle did this as an act of retribution towards Meyer, who had offered the position of Secretary of State to Paul Graves, despite promising the position to Doyle.
James attended Montez's inauguration on January 20, 2017. He was last seen saying goodbye to Meyer and telling her that he planned on starting a multi-billion dollar hedge-fund.
In the year following the loss, James did follow through with his intention to start a multi-billion dollar hedge-fund, opening Jamestown Capital. James published a book titled Investing With a Conscience in July 2018. James also married a woman named Alethia, and fathered a child with her. At some point in 2017/18, James had a heart attack.
On July 10, 2018, Meyer and James encountered each other for the first time since Montez's inauguration. During this meeting, James appeared to apologize for his treatment of Meyer. He also begged Meyer to not put details of their tryst in her upcoming memoir due to his new wife and expected child. Despite Meyer lying that she wouldn't detail their tryst, James appeared on CBS This Morning on July 12 to reveal that he and Meyer did have sex at some point during Meyer's presidency.
James would go on to attend Meyer's portrait unveiling on July 13, which coincided with the 2018 government shutdown. He and Meyer shared a sexually charged moment in the Red Room of the White House, with both acknowledging the chemistry that exists between them.
2020 presidential campaign
[
edit
|
edit source
]
See also: Tom James 2020 presidential campaign
In March 2019, James announced that he was running for president in the 2020 presidential election. James hired Michelle York to act as his deputy campaign manager.
In April 2019, James attended a weekend event held by major party donor Felix Wade. Meyer, also running for the party nomination, was also in attendance. James admitted that he loved Meyer, though it appeared only to distract Meyer from a speech she was about to give. Despite his confession, Meyer learned that James was having an affair with York.
In the lead-up to the first primary debate, Meyer attempted to goad James into teaming up to take down rising star Kemi Talbot, asking him to break the pledge she issued for all the candidates to run issue-based campaigns rather than attack-based. James revealed Meyer's intentions publicly during the debate and revealed that Meyer had a heart attack in March 2018. Meyer managed to overcome his attacks by focusing on Talbot's perceived ungratefulness. Meyer was considered to have won the debate.
Despite coming in third place in New Hampshire, James withdrew his candidacy while campaigning in South Carolina on February 20, 2020.
In the subsequent primaries, neither Meyer nor Talbot received a majority of delegates, leading to the brokered 2020 National Convention held in Charlotte, North Carolina, in July 2020. With many delegates unsatisfied with Talbot and Meyer, a "Draft James" movement emerged, encouraging James to re-enter the race as a unifying figure for the party. James agreed and announced he was back in the running. His resurgence was swiftly halted by Meyer, who convinced his Chief of Staff Michelle York to bring accusations of sexual harassment against him, claiming he used his position of power to manipulate her into a sexual relationship. With James' chances of winning the nomination dead, James confronted Meyer in her skybox and called her a "monster".
Following the sexual harassment allegations brought forward by Michelle York, it is unlikely that James would have been elected to any positions in his later years.
James attended the funeral of Selina Meyer in 2045. The funeral program listed Tom James as being Secretary of State. It is unclear whether or not this was intentional or a mistake. If it was intentional, this would mean it was possible that James served as Secretary of State during the presidency of Kemi Talbot.
Community content is available under
CC-BY-SA
unless otherwise noted.