The 2012 presidential campaign of Stuart Hughes was announced in 2011. Hughes won the majority of the primaries and chose Maryland Senator Selina Meyer to be his running mate in the general election.
See also: 2012 United States presidential primaries
Despite either winning or coming in second in Iowa, Hughes was defeated in the New Hampshire primary. Hughes likely did very well on Super Tuesday.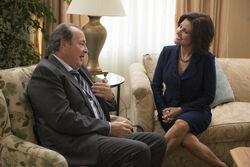 Sometime before the 2012 National Convention, Hughes was able to clinch the nomination and, during a tenuous hotel conference, met with Meyer to be his running mate. Meyer claims that one of the reasons she joined Hughes on the ticket was because he looked like a "fossil" and his appearance would make her look younger by comparison. Hughes and Meyer accepted the party nomination for president and vice president at the 2012 National Convention in Milwaukee, Wisconsin.
In the general election campaign, Meyer became bitter with Hughes' senior strategist Kent Davison, primarily for forcing Meyer to appear more familial with her ex-husband Andrew, including a trip going river rafting, where Meyer at night had to hear "Andrew banging that skank on the riverbank". It was later revealed that Andrew's firm funded both sides in the general election.
Meyer would later recall the vice presidential debate in the election, against her vice presidential challenger Abraham Buttrick: "[It] consisted mostly of his extended recounting of his time as a POW in Vietnam and the terrible things that were done to him during it, which I was too respectful of the sacrifices of our brave men and women in uniform to interrupt but which didn't seem to help his side much."
Hughes and Meyer ultimately won the election. On the night of the victory, Davison put Andrew on stage, with Meyer angry because it was her night, according to Meyer.
Community content is available under
CC-BY-SA
unless otherwise noted.