Selina Meyer

45th and 47th
President of the United States
In office
January 20, 2021 – January 20, 2025
Vice President
Jonah Ryan (2021–???)
Unknown (until 2025)
Preceded by
Laura Montez
Succeeded by
Eventually Kemi Talbot
In office
January 24, 2016 – January 20, 2017
Vice President
None (Jan-Feb. 2016)
Andrew Doyle (2016–2017)
Preceded by
Stuart Hughes
Succeeded by
Laura Montez
47th Vice President of the United States
In office
January 20, 2013 – January 24, 2016
President
Stuart Hughes
Preceded by
Unknown
Succeeded by
Andrew Doyle
United States Senator
from Maryland
In office
January 3, 2003 – January 2013
Preceded by
Bobby Esposito
Succeeded by
Unknown
Member of the
U.S. House of Representatives
from Maryland's 14th District
In office
January 3, 1999 – January 3, 2003
Preceded by
Porter Marshall
Succeeded by
Unknown
Personal details
Born
Selina Catherine Eaton
February 25, 1967 (disputed)
Palm Beach, Florida, U.S.
Died
2045
Resting place
Meyer Presidential Library
Spouse(s)
Andrew Meyer (divorced)
Children
Catherine
Mother
Catherine Melville
Father
Gordon Eaton
Alma mater
Smith College
Yale University
Awards
Peace Summit Award (2020)
Signature
"
Someone needs to do something about this.
"

– Meyer
This article is part of a series about


Selina Meyer
Political positions • Electoral history • Family

---

Vice President of the United States
Vice presidency
Clean Jobs Bill • Get Moving! • Uzbek hostage crisis • 2015 U.S. government shutdown

---

President of the United States
Presidencies (Timeline)
1st inauguration • 2nd inauguration
Joint session address • Medileaks scandal • Families First Bill • 2016 U.S. banking crisis • Death of Hamza Al Bashir • Independence of Tibet

---

Presidential campaigns
2008 • 2012 (Primaries) • 2012 VP campaign (Selection, Convention, Election)
2016 (Primaries, Convention, Election, Nevada recount)
2020 (Primaries, Convention, Election, Chinese election interference)

---

Some New Beginnings • A Woman First
Trips taken • Residences • Controversies • Meyer Fund • Selina Meyer Presidential Library • Death and state funeral

---
Selina Catherine Meyer (née Eaton; February 25, 1967 – 2045) was an American politician and lawyer who served as the 45th and 47th president of the United States. Prior to this, she served as the 47th vice president of the United States under President Stuart Hughes from 2013 to 2016, a United States senator and a United States Representative from Maryland. She was the first woman to serve as president and vice president, and the second president to serve two non-consecutive terms in office (2016–17 and 2021–25).
Meyer's political career began in the early 1990s. After running unsuccessfully for Maryland State Senate, Meyer was eventually elected to Congress in 1998 and later served as a U.S. Senator for two terms. She campaigned for president unsuccessfully in 2008 and later again in the 2012 presidential election, where she gained attention as a rising star within the party. She ultimately came in third in the primaries, losing to Stuart Hughes. She was asked by Hughes to serve as his running mate, and the Hughes-Meyer ticket would go on to win the election, with Meyer being sworn-in as vice president on January 20, 2013. During her tenure as vice president, Meyer worked diligently on the Clean Jobs Bill, held budget talks that ultimately led to the 2015 government shutdown, and was involved in the freeing of the hostages during the Uzbek hostage crisis, which was later embroiled in scandal when it was revealed one of the hostages was a U.S. spy. When Hughes announced he would not seek re-election, she subsequently campaigned in the 2016 presidential election. After three years of serving as his vice president, she ascended to the presidency after his resignation on January 24, 2016.
Meyer served as president for the remaining year of Hughes' term while simultaneously campaigning in the 2016 presidential election. During this brief tenure, Meyer made a historic trip to Iran to free a detained American reporter; the first time a president had visited Iran since Jimmy Carter in 1977. Meyer was also heavily involved in the drafting of the controversial and unsuccessful Families First Bill. In October 2016, an investigation in the House of Representatives was launched after allegations surfaced that Meyer's campaign purposely got the bill to fail due to it's unpopularity. Her administration was also caught in the middle of the Medileaks scandal, in which her administration was accused of hacking the medical and social security records of a child. After securing the party nomination in the 2016 presidential primaries, Meyer and her running mate Connecticut Senator Tom James faced off against Arizona Senator Bill O'Brien in the general election. However, after the Electoral College gridlocked and the House of Representatives failed to choose a president, Meyer ultimately lost the presidency to Laura Montez.
Meyer left office in January 2017. After leaving office, Meyer briefly ran the Meyer Fund, which found itself under intense scrutiny from the FBI years later for allegations of financial misappropriation. Meyer again ran for president in the 2020 presidential primaries, her fourth consecutive presidential campaign. After a close primary fight against New York Senator Kemi Talbot, Meyer accepted the party nomination at the brokered 2020 National Convention, selecting former New Hampshire Congressman Jonah Ryan as her running mate. The Meyer-Ryan ticket defeated Laura Montez in the general election. Meyer's election in 2020 was partially responsible through interference from the Chinese government.
Meyer would go on to serve a full term as president from 2021 to 2025. During her second term as president, she controversially repealed same-sex marriage. Meyer would've been eligible to seek re-election in the 2024 presidential election, but for whatever reason she was not elected to another term; whether that be an intentional decision or running another failed presidential campaign is unknown. After spending 20 years out of office, Meyer died in 2045. Despite being hailed as the first female president and vice president, Meyer is considered to be one of the most ineffective presidents in American history and her presidency is usually ranked among the worst.
Early life
[
]
Selina Catherine Eaton was born to Catherine Calvert Eaton and businessman Gordon Dunn Eaton in Palm Beach, Florida. Eaton's birthdate is officially listed as February 25, 1967[1], though some have speculated that she may be older or possibly younger.
Eaton was raised in Chevy Chase, Maryland. While she was a child, Eaton had a pony named Ladypepper.[2] It is later claimed that she begged her father to get her a horse named 'Chicklet' and he did, telling Eaton: "Squirrel, you're an intense little girl, and now you finally have a friend." Her father eventually sold her horse to get the IRS off his back, though Eaton was told that her mother sold her horse.
Eaton's political career was sparked by her father, who introduced her to President Richard Nixon at his 1973 inaugural ball, and told Eaton that, like Nixon, she was not well-liked but she was respected.
She had a difficult relationship with her exacting and controlling mother, who criticized her weight and would not let her use the "good" piano; this is something she remembers with bitterness at her mother's funeral. Eaton grew up believing that her father was a good person, but later came to the realization that he was even worse than her mother, finding out that he sold her horse to the IRS, had his secretary buy gifts for her, and was cheating on her mother.
In 1979, her father had a heart attack and died while having sex with his secretary in the barn that used to hold Eaton's horse. Eaton was told he died while overseas for business. Eaton was blamed by her mother for his death.
While Eaton grew up in Maryland, she attended boarding school out of state. In 1985, Eaton was admitted to Smith College in Massachusetts. She pursued political science her freshman year because of a boy she had a crush on.[3] She was good friends with Regina Pell during this time, and Regina would recall that they shared a sexually charged moment during their junior year.
It was during her senior year at Smith that Eaton met businessman Andrew Meyer. They moved into an apartment together in a sketchy neighborhood in New Haven in the fall of 1988. Eaton graduated from Smith in spring 1989 and would later go on to Yale. Eaton and Andrew Meyer would marry in the late 1980s/early 1990s, with Eaton taking his name, becoming "Selina Meyer".
Meyer would go on to pursue a career as a lawyer. In the early 1990s, she established a firm with her colleagues Anna, Sarah, and Deborah. It was during her time as a lawyer that she met and became friends with Karen Collins.
Meyer and Andrew's daughter, Catherine Selina Meyer, was born in 1994. Meyer took time off from her law practice to have Catherine. It was on the day that Catherine was born that Meyer met Gary Walsh and decided that she wanted to pursue a career in politics.
At some point in the 1990s, Meyer ran unsuccessfully for Maryland State Senate.[4]Her mother, Catherine Calvert Eaton, attributed this to her "toothy smile."
1996 congressional campaign
[
]
After vowing to run for congress after the birth of Catherine, Meyer decided to run in the 1996 congressional election for Maryland's (fictional) 14th district.
The seat had been dominated by Conrad Boyle, who had represented the 14th Congressional District of Maryland for 32 terms. Boyle died weeks before election day in 1996, launching a frenzy as to who would succeed him.[3]
Meyer goes into detail about her 1996 congressional race in her 2018 memoir A Woman First: First Woman. Her opponent, Porter Marshall, was an African American veteran who was a regular churchgoer, taught Sunday School, and even built orphanages in Haiti. According to Meyer, "[Marshall] crowded about my having had to take the bar exam so many times, on how few actual clients I had and how rarely I had prevailed in court, and most underhanded of all, he convinced the Baltimore Sun to run an article about my DUIs and featuring a very unflattering mug shot."[3]
During the race, Meyer and her campaign were struggling to find anything to attack Marshall on. At one point, Andrew was able to find a gay pornstar named Rod Longpole, who apparently looked identical to Porter Marshall, and sent tapes to the local press hoping to damage Marshall's lead in the polls. This ultimately backfired as Meyer's campaign had their fingerprints all over it. Despite this, Meyer did receive the endorsement of Rod Longpole.[3]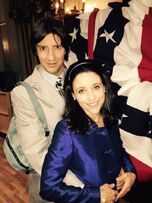 Meyer claimed that the majority of her base were addicted to crack-cocaine, and that a bad patch had been poisoned before election day. According to Meyer, some blamed Marshall for the poisoned crack. Meyer would end up losing the election, and blamed her base of crack-users for not coming out on election day. She has said that she is an opponent of drugs for that very reason.
Her loss triggered a mental breakdown which resulted in her temporarily being institutionalized at the Whispering Sands Wellness Center. During this time, Meyer says she went to a "spa". According to Meyer, the press regarded her as "Selina Vanderbilt" because of her loss.
1998 congressional campaign
[
]
In 1998, Congressman Porter Marshall died in a helicopter crash while bringing food and medicine to Honduras after deadly mudslides. Meyer would run for the seat.[3]
During the campaign, Andrew was sleeping with her press secretary at the time, and blamed Meyer for it. Meyer made Andrew fire her and would replace her with Mike McLintock. It was a very close race, and people criticized Meyer for being cold and unrelatable. Her opponent was "some old white guy".[5] Meyer would go on to win the election.
Legislative career
[
]
U.S. House of Representatives (1999–2003)
[
]
Meyer was sworn into Congress on January 3, 1999.
Meyer would later describe the reality of Congress to be a "crushing blow", remarking on how "uncool" the House of Representatives is, describing the other members as "nerds" who had bad breath, unsavory fashion choices and terrible hair. She would also remark the lousy pay compared to other political positions.[3]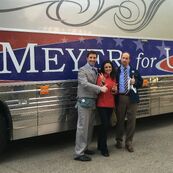 In her autobiography, Meyer recalls several moments standing out to her: "I remember Representative Langon Kruger of Nebraska cornering me in the cloakroom and going on and on about why I had to vote for some place or another to become a National Grassland and thinking 'My God, this is actually important to this guy.' That was eye-opening. And of course Representative Dan Chase of the West Palm Beach area, remember him? We went to Italy on a fact-finding trip together, and he introduced me to a lot of women I later learned were prostitutes. So in this way I put in my pocket the gold coin of experience--the only coin that may never be seen."[3]
In 2002, the senior Senator from Maryland, Bobby Esposito, was shot to death by his wife. Meyer decided to run for the open seat, citing her reasoning as the following: "Ask yourself, which would you rather have: a job where you have to get elected every two years, you have no power, and there's more than four hundred gross dweebs and small-town nobodies fighting for attention, or a job as a senator?"
During her 2002 Senate campaign, with money dwindling, Meyer blackmailed Sally Nuefeld, a large financial donor, after catching her in the act with Andrew.[6]
On election night 2002, Meyer won the election with the smallest number of votes in Senate history.[3]
U.S. Senate (2003–2013)
[
]
Once in the Senate, Meyer would remark a similar feeling of disappointment, and claimed to be "bored of out my skull".[3]
In 2003, Meyer would be joined by newcomer Amy Brookheimer, who would prove to be one of her longtime confidantes.
Meyer would divorce Andrew early into her first term as Senator, while keeping his last name. During her time in the Senate, she became close with Mike, who implied that she drank heavily during this time.
In 2004, Meyer and Connecticut Senator Tom James had a "sexually-charged moment" after the "Sharply Debate". Meyer is offended when, twelve years later, Tom has no idea what she was talking about.
Meyer's first run for the presidency was in 2008, when she decided to run in the 2008 presidential election. She announced at the birthplace of Susan B. Anthony in Adams, Massachusetts, but apparently didn't pay the cost of the announcement. She didn't go far in the primaries and ran for re-election in the Senate instead.
Senator Meyer ran again for president in the 2012 election, and was somewhat more successful her second time around. Although she came in third in Iowa, Meyer won the New Hampshire primary and was considered a rising star in the party. However, she did very poorly on Super Tuesday, losing Illinois, Missouri, Ohio, Florida, North Carolina, Texas, and Guam. With no way forward, Meyer suspended her campaign.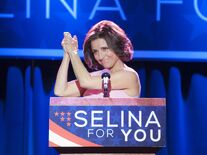 According to Mike, the two biggest mistakes of her primary campaign was she "looked tired and the hat. The hat hurt us". The two biggest mistakes according to Dan were that she "spent too much time in New Hampshire and the attack ads in Oregon came up way too soon. It made you look mean before you had to be mean." According to Meyer, she spoke in favor of immigration amnesty all throughout the primary campaign.
After ultimately losing in the primaries, Meyer was approached months before the convention about becoming running mate for Michigan Governor and soon-to-be party nominee Stuart Hughes during a hostile hotel conference. Meyer claims that one of the reasons she joined Hughes on the ticket was because he looked like a "fossil" and his appearance would make her look younger by comparison. Hughes and Meyer accepted the party nomination for president and vice president at the 2012 National Convention in Milwaukee, Wisconsin.
In the general election campaign, Meyer became bitter with Hughes' senior strategist Kent Davison, primarily for forcing Meyer to appear more familial with her ex-husband Andrew, including a trip going river rafting, where Meyer at night had to hear "Andrew banging that skank on the riverbank". It was later revealed that Andrew's firm funded both sides in the general election.
Meyer would later recall the vice presidential debate in the election, against her vice presidential challenger Abraham Buttrick: "[It] consisted mostly of his extended recounting of his time as a POW in Vietnam and the terrible things that were done to him during it, which I was too respectful of the sacrifices of our brave men and women in uniform to interrupt but which didn't seem to help his side much."
Hughes and Meyer ultimately won the election. On the night of the victory, Davison put Andrew on stage, with Meyer angry because it was her night, according to Meyer.
Vice president (2013–2016)
[
]
See also: Vice presidency of Selina Meyer
Meyer was sworn in as vice president in a private ceremony on January 20, 2013. Her first day as vice president, Meyer was blindsided when President Hughes reneged on his promise to give her an office in the West Wing, and instead moves her to the Eisenhower Building.
Because January 20 was a Sunday, the public inauguration was held on January 21. Meyer was sworn in on a bible that was "hastily purchased for the occasion at a Georgetown used bookstore." Catherine held the bible, but was shivering uncontrollably in the 28 degree weather, and Meyer would recall "I barely managed to get through the oath without her dropping it."
Clean jobs initiative
[
]
See also: Clean Jobs Bill
Early in her first year as vice president, Meyer wanted the implementation of a Clean Jobs commission to be her legacy, which would place sanctions on polluters and provide tax breaks for the "good guys". Senator Andrew Doyle wanted Meyer to agree to keep oil guys off the Clean Jobs task force in exchange for his sponsorship of the Senate reform bill, another piece of legislation she wanted to push through. However, Meyer knew she'd already agreed to put an oil guy on the task force. Dan Egan suggested putting an ex-oil guy on the task force.
Meyer's top choice for the task force is ex-oil Chuck Furnham in an effort to appease both the oil lobby and the anti-oil lobby. Anti-oil Senator Doyle hates the idea of placing Furnham on the task force due to Furnham's former connections to oil, and pro-oil Barbara Hallowes hates the idea because Furnham isn't oily enough. However, by this point, Furnham had announced that he would be on the task force.
At a remembrance for the late Senator Reeves, word comes that President Stuart Hughes, bowing to oil pressure, wanted Sidney Purcell on the clean jobs task force. Egan stepped into action and offered Purcell an unofficial back channel to Meyer, then congratulated Doyle for pushing Furnham out and getting the much oilier Purcell in the bargain. Doyle is flummoxed and eats crow to get Chuck Furnham back on the task force.
In October 2013, Meyer drafted the Clean Jobs Bill, which put emphasis on adding sanctions on polluters and lowering taxes on non-polluters. However, President Hughes decided that he wanted all emphasis on the Fiscal Responsibility Bill, so he dropped Clean Jobs.
Meyer's deputy director of communications Dan Egan went behind Meyer's back and contacted Senator Macauley, who was a big proponent of Clean Jobs, and got Macauley to add the bulk of Clean Jobs as an amendment to the Fiscal Responsibility Bill. The Macauley Amendment received a tied vote in the Senate. Meyer was forced to cancel a trip to Paris to cast the deciding vote. Meyer was unsure of what to do--she had worked tirelessly on Clean Jobs for months, but to vote for the amendment would be going against the president's wishes. Meyer ultimately voted against the amendment.
Following the amendment's failure in the Senate, various members of Meyer's team, including Meyer herself, implied that they knew about Egan's actions in lobbying Senator Macauley. Meyer insisted she wanted nothing to do with it as she doesn't want to appear disloyal to Hughes.
Ohio Congressman Roger Furlong appeared to have full knowledge of Egan's role in the Macauley Amendment and threatened to drag the vice president's office into a congressional hearing. In November 2014, the party lost it's majority in the House of Representatives, scraping Furlong of his ability to investigate the Meyer offices.
Get Moving! initiative
[
]
See also: Get Moving!
In October 2013, Meyer was forced by President Hughes to launch a campaign to combat obesity. This was considered a slight against Meyer as she personally despised obese people.
Get Moving! was officially launched at an event at Camden Yards in Baltimore, Maryland, in November 2013. During the event, a gas leak in the stadium forced Meyer and others to stay within the complex for an hour.
In April 2015, Meyer participated in a Get Moving! 10K fun run. This coincided with impeachment rumors swirling around Stuart Hughes.
Uzbek hostage crisis
[
]
See also: Uzbek hostage crisis
On November 4, 2014, several college-aged Americans backpacking in Uzbekistan were captured and held hostage. President Hughes' senior adviser Kent Davison claimed that the administration would not intervene militarily until polls supported military intervention. In January 2015, a rescue mission was set for January 6. This coincided with Meyer having to swear-in senators in the 114th United States Congress. Hughes, Secretary of Defense George Maddox, General Mercer, and Meyer (via webcam) met in the Situation Room to witness the operation. All the hostages were successfully freed without any casualties. A Marine sergeant lost a leg during the mission.
In January 2015, top Hughes officials Kent Davison and Chief of Staff Ben Cafferty discovered that one of the hostages was a CIA operative, thus endangering the lives of the other hostages who were not spies. Hughes knew one of the hostages was a spy during the crisis. Mike McLintock, who was briefly working for Davison at the time, inadvertently emailed Davison's polling consultations regarding the spy out of the administration, making Hughes' lie public. Meyer, who was in Finland at the time, claimed she stood with the president.
In February 2015, Hughes rejected a hard-wrought budget deal made by Meyer and Majority Leader Mary King. This led to a government shutdown, which Hughes intended to act as a diversion from the spy story.
In March 2015, Vice President Meyer participated in a TV interview with Janet Ryland. During the interview, Meyer avoided all questions regarding the spy story. Upon discovering that her political career is close to flatlining, Meyer lied about having full knowledge that one of the hostages was a spy. Meyer offered a heartfelt apology on behalf of the administration. Meyer's approval ratings skyrocketed following the interview, with people dubbing her the "no BS VP".
Congress began issuing a massive amount of subpoenas toward the Hughes administration. After State Department official Schmidt agreed to testify, the House Judiciary Committee began discussing an impeachment. The Senate, controlled by Hughes' party, turned on the president. In April 2015, behind closed doors, Hughes announced he would not be seeking re-election in the 2016 presidential election, in a deal with party leadership to quash any impeachment efforts.
2015 trip to Finland
[
]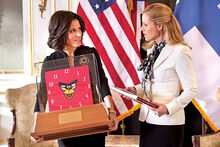 In January 2015, Meyer visited Helsinki on behalf of Stuart Hughes to finalize a trade agreement with Finnish Prime Minister Minna Häkkinen. Meyer was repeatedly asked about the "50 Ways to Win in Denver" song that Meyer had performed days earlier that was seen as "europhobic". Meyer's acting communications director Dan Egan apologized for the song, then apologized for assuming offense was taken towards the song.
During a reception, Meyer was sexually assaulted by Häkkinen's husband, Osmo. Meyer was also blindsided by a reporters question regarding the unfolding aftermath of the Uzbek hostage crisis wherein it was leaked that one of the hostages was a CIA operative. Meyer affirmed her allegiance towards the president.
Succession
[
]
Main article: Inauguration of Selina Meyer
In January 2016, months after announcing he would not run for re-election, Hughes resigned to take care of First Lady Edna Hughes, who had attempted suicide one month earlier. Sitting Vice President Selina Meyer was in New Hampshire at the time, campaigning for the New Hampshire primary, which she would lose days later. Upon finding out that Hughes was resigning, Meyer was flown back to D.C.
First term as president (2016–2017)
[
]
See also: Presidencies of Selina Meyer
Meyer was the second person to assume the office of president of the United States following their predecessor's resignation, the first being Gerald Ford in 1974. She was sworn in on January 24, 2016. The swearing in was held in a White House state room. The inauguration marked the commencement of Meyer's first term (which lasted about a year) as president, following the resignation of President Stuart Hughes. Immediately after becoming president, Meyer addressed the nation, wearing squeaking shoes. This was widely mocked on social media.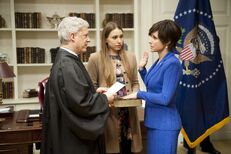 During her swearing-in, Meyer said "preser... protect, and defend the Constitution of the United States." House Speaker Jim Marwood demanded that she took the oath again, and she was sworn in the next day at a factory in New Hampshire.
Meyer inherited a majority of her personnel from her predecessor, Stuart Hughes. Despite this, Meyer did make several personnel changes. On her first day as president, Meyer accidentally fired Leslie Kerr, a Hughes appointee who was in a high position in the State Department. The move angered Iran. Meyer also appointed Ann James to serve as Secretary of Housing and Urban Development.
Soon after becoming president, Meyer nominated Senator Andrew Doyle to be her vice president. Doyle was confirmed by Congress in February 2016. This was the shortest vice presidential vacancy in United States history.
Foreign policy
[
]
Israeli state dinner
[
]
On February 25, 2016, Meyer welcomed Israeli Prime Minister Ben-Haim and his wife to the White House. Despite being able to broker a deal with the prime minister, the dinner was controversial due to it's extravagance and cost.
Middle East tour
[
]
In April 2016, Meyer embarked on a 10-day world tour, making successful trips to Jordan, Egypt, and Israel. Meyer planned on ending her tour with a historic trip to Iran in an effort to secure the release of detained reporter Leon West, the first time a president had visited Iran since Jimmy Carter in 1977. However, Meyer's visit to Israel went so well that they intentionally delayed the release of West by an extra day. West flew home to the United States aboard Air Force One on May 3, 2016. While there, he confronted Meyer about the delay in his release, threatening to talk to the press about this. Meyer's tour was popular and contributed to her winning the presidential nomination in 2016.
Death of Hamza Al Bashir
[
]
See also: 2016 Hamza Al Bashir airstrike
In 2016, a United States drone strike ordered by President Meyer targeted a wedding near the Pakistani border. The target of the operation was Hamza Al Bashir, a prominent member of the Democratic Republic of Afghanistan, who was at the wedding. The drone strike decimated a tent at the wedding, killing Al Bashir and numerous civilians. The drone strike violated Pakistani sovereignty laws.
In April 2020, the International Criminal Court placed a warrant for Meyer's arrest for war crimes for the drone strike. Meyer sought asylum at the Norwegian embassy in Oslo and fled back to the United States.
Independence of Tibet
[
]
See also: Independence of Tibet
In early November 2016, Chinese hackers breached White House computers. After accidentally sending an inappropriate tweet, United States President Selina Meyer would blame the Chinese hackers for the tweet and impose a series of strict sanctions on the Chinese.
On December 19, 2016, President Meyer arrived at Camp David to negotiate with Chinese President Lu Chi-Jang, with the help of former Finnish Prime Minister Minna Häkkinen. Unbeknownst to the Americans, the Chinese economy was in a far worse state than anyone realized. In exchange for the lifting of the sanctions and the fulfillment of Chinese demands for industrial metals, the Chinese prepared to discuss a framework for Tibetan independence--a path to self-determination, similar to Hong Kong's 'one country, two systems' concept. Lu and Meyer were able to sign a deal on December 21, 2016.
In January 2017, after finding out that her presidency would end later that month, Meyer wanted to accelerate the process of Tibet's independence, and went through Qatari ambassador Al Jaffar. According to him, the Chinese were hesitant to move forward with Tibet now that she will be out of power. However, Meyer assured Jaffar that she will be a pivotal part in the Tom James administration, and that she will continue as his vice president.
However, the vote in the United States Senate on January 5, 2017 resulted in Laura Montez being elected as the new president, effectively putting Tibetan independence on hold. On January 20, 2017, minutes into the presidency of Laura Montez, China officially released Tibet and sent the Tibetan spiritual leaders to Andrews Air Force Base. Montez was given immediate credit for the freeing of Tibet. In 2017, she was awarded the Nobel Peace Prize. However, in October 2018, a leak revealed that Meyer was responsible for the freeing of Tibet all along. Meyer was awarded the Peace Summit Award in April 2020 for her work.
Domestic policy
[
]
Medileaks scandal
[
]
See also: Medileaks scandal
In March 2016, the Meyer administration was involved in the hacking of medical records of a young girl for a speech, and using child mortality data from the same breach for a campaign mailer for Meyer's re-election campaign. The Meyer administration fired several key officials related to the breach, including long-time Meyer aide Dan Egan. In October 2016, it was revealed that some more of Meyer's close allies were involved in the data hack. Bill Ericsson, who had joined the Meyer administration earlier that year, was scapegoated and arrested that November.
Considering the largeness of the scandal and how close to election day the congressional hearings occurred, it's likely that the Medileaks scandal had a large impact on the tied 2016 presidential election.
Families First Bill
[
]
See also: Families First Bill
In February 2016, within weeks of the resignation of Stuart Hughes, Meyer was planning the Families First Bill, but could only accomplish it with money saved from Hughes' plans. At Meyer's joint session address, Meyer mistakenly allowed Hughes' plans to continue.
In October 2016, the bill was put to a vote in the House of Representatives. The Meyer team, realizing how toxic the bill is, deliberately tried to botch the vote so they could win the election. Gary Walsh, Meyer's personal aide, hired lobbyists and former Meyer staffers Amy Brookheimer and Dan Egan to convince congresspeople to vote against the bill. Concurrently, White House Chief of Staff Ben Cafferty had been using Jonah Ryan and Richard Splett to lobby congresspeople in favor of the bill, knowing their incompetence will result in a 'no' vote. However, Congressman Moyes discovered that Brookheimer and Egan presented the same data that Ryan and Splett did, believing that Meyer wants her own bill to fail. Meyer brought in Congressman Owen Pierce and offered him an ambassadorship in exchange for him voting no. The bill failed in the house that night.
After the Families First bill failed to pass the house, Representative Moyes announced he wanted hearings into the events leading up to the Families First vote. Meyer herself publicly declared that there wasn't an ounce of truth that she used lobbyists to get the bill to fail. Cafferty insisted that the Meyer administration worked hard to get the bill passed. Sue Wilson was questioned as to why there was no record of Pierce's meeting with Meyer. Members of the Meyer staff one-by-one named Communications Director Bill Ericsson as the one responsible for both the data breach and the use of lobbyists for the Families First Bill. Ericsson was arrested on November 10, 2016 and harbored resentment towards Meyer for throwing him under the bus and not considering a pardon.
Economy
[
]
See also: 2016 United States banking crisis
On November 9, 2016, referred also to as Black Wednesday, the Dow Jones experienced it's worst day since the 2008 economic crisis. Wanting to neutralize Tom James, President Meyer made James economy czar, forcing him to take the fall for any financial woes. After taking over his economic task force, Meyer met E.M. Wheelright CEO Charlie Baird and would develop a romantic relationship with the banker.
On December 9, 2016, the Dow Jones dropped 3,220 points. Meyer's economic task-force, led by Tom James, came to the decision that they had to bail out three banks. Meyer bailed out Janders Capital because they were based in Illinois, a crucial state in the upcoming congressional presidential vote. Having to choose between Paulsten-Berheim and E.M. Wheelright (Baird's bank), Meyer hesitated to make a decision. Meyer was frightful of the appearance of bailing out a cohort's bank, even though bailing out Wheelright would be a better decision for the economy. On December 11, E.M. Wheelright entered chapter 11 bankruptcy. This ended Baird's and Meyer's relationship. On December 12, the Dow Jones began to recover and further economic devastation was averted.
Pardon of Sherman Tanz
[
]
In January 2017, Meyer pardoned private-prison magnate Sherman Tanz. This pardon was extremely controversial. Meyer's true intentions for pardoning Tanz would be for him to fund a possible run in 2020. Meyer was questioned by staffer-turned-reporter Dan Egan in January 2018 regarding the pardon. Meyer quickly changed the subject and avoided the topic.
2016 presidential election
[
]
See also: 2016 United States presidential election
Meyer's interests in running for president in the 2016 presidential election were sparked in April 2015, while Meyer was serving as Hughes' vice president. Hughes privately revealed that he would not be running for re-election due to the fallout from the Uzbek hostage crisis. Meyer announced her candidacy officially on October 18, 2015.
The major contenders for the party nomination in 2016 were Minnesota Governor Danny Chung, baseball manager Joe Thornhill, former Secretary of Defense George Maddox, and Nevada Congressman Owen Pierce. Meyer came in second at the first primary debate held in December 2015. Meyer's ascension to the presidency occurred in the midst of her primary campaign, just days before the New Hampshire primary. However, despite the positive press surrounding Meyer's sudden presidency, Meyer's initial blunders as president--namely the firing of Leslie Kerr from the State Department, provoking tensions with Iran--resulted in her coming in third in New Hampshire. Despite her initial setbacks in the primaries, Meyer was able to rebound and won the party nomination before the 2016 National Convention. While at the convention, Vice President Andrew Doyle announced he would be stepping down due to health issues. Meyer instead nominated Connecticut Senator Tom James as her running mate. James' popularity on the campaign trail resulted in him overshadowing Meyer during their campaign appearances.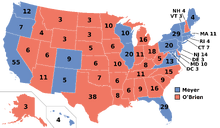 The Meyer-James ticket faced off against Arizona Senator Bill O'Brien and his running mate New Mexico Senator Laura Montez in the general election. The result on election night was a 269-269 electoral tie, leaving the presidency to be decided by congress. Meyer was projected to win the popular vote on election night. In the state of Nevada, returns showed that O'Brien's lead was less than half a percent, which by state law allowed for a recount. It was revealed that an anti-Meyer postal employee had hoarded ballots. The ballots skewed heavily towards O'Brien, extending his lead in the state and allowing him to surpass Meyer in terms of the national popular vote.
The presidential vote in the House of Representatives was held on January 3, 2017, following the provisions of the Twelfth Amendment to elect the president between candidates Selina Meyer and Bill O'Brien. Notably, Missouri, Pennsylvania, and Vermont abstained from the vote, in an effort to prevent any candidate from achieving 26 votes. Neither O'Brien nor Meyer received a majority of the vote. On January 5, House Speaker Jim Marwood declared that the House of Representatives would not convene again to decide the presidency.
The presidential vacancy added more importance to the vote in the Senate on January 5, where the vice president-elect would become president-elect. Meyer was offered the position of vice president in a potential Tom James administration, and despite expressing refusal to serve in the position again, reluctantly accepted the offer. However, the vote in the Senate awarded the presidency to Laura Montez, crippling any hopes of Meyer returning to power in a James administration. Montez officially was sworn-in on January 20, 2017.
Out of government (2017–2021)
[
]
Selina Meyer's first term as president ended at noon on January 20, 2017, immediately following the inauguration of her successor, Laura Montez. After the inauguration, Meyer lifted off on Executive One, but after the engine broke down mid-flight, Meyer listened in the rain to Montez's inaugural parade.
In the months following her loss, Meyer was institutionalized again and returned to the Whispering Sands Wellness Center in Arizona, referring to it as another trip to the "spa". She stayed there for several months under heavy medication, and later moved to New York City, moved in with her daughter Catherine in a Brownstone, and established an office in the South Bronx.
Meyer made her first appearance out of office on January 3, 2018, appearing on CBS This Morning, interviewed by Dan Egan. During the interview, she announced the Meyer Fund for Adult Literacy and AIDS. Meyer also revealed that she was working on a memoir but and shrugged off rumors that her predecessor had been offered much more for his book.
Speculation would persist as to whether or not Meyer would run again in the 2020 presidential election, which would be her fourth consecutive presidential campaign. Despite privately planning on indeed running, a talk with longtime confidant Ben Cafferty dissuaded Meyer from making a comeback.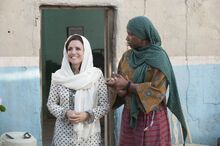 In January 2018, Meyer attended the opening of the Stuart Hughes Presidential Library. Bitter that she was the only living former president not to have a library, Meyer approached Smith President Regina Pell about having Smith college host a Meyer library. However, after Meyer's ex-husband Andrew was caught sleeping with Meyer's portraitist Helen Wright, Meyer fired Wright and caused protests from students at Smith. Meyer rehired Wright to finish her portrait while Smith would pass on Meyer's library.
In February 2018, Meyer supervised the 2018 Georgian presidential election, the first free and fair democratic election held in the country. While the U.S. supported candidate Nikolai Genidze, Meyer was enticed by Murman Shalikashvili, the president of Georgia running for re-election, when he offered a sizable donation to her library, as a bribe for her support. Nikolai countered Murman's bribe, and ultimately Murman donated $20 million to Meyer's library. Shalikashvili ended up winning the election, the authenticity of which was debated. However, after leaving office, a coup occurred and Murman was thrown out of office. The exchange rate between the U.S. and Georgia subsequently dropped significantly, with Murman's $20 million dollar donation having dropped to roughly $380,000.
On March 6, 2018, Meyer was hospitalized after being diagnosed with a heart attack at a hotel in Washington, D.C. This coincided with the heart attack of her personal aide Gary Walsh. Meyer allowed Walsh to stay at her Brownstone in New York until he returned to health.
After the death of Supreme Court Justice Tenny, speculation rose as to whether or not Meyer would be under consideration for the seat. Despite actively wanting the position on the court, and President Montez announcing that she would be reaching across party lines for the seat, former President Stuart Hughes was chosen as Montez's nominee on March 13, 2018.
About a month after her heart attack, Meyer and former White House press secretary Mike McLintock began working on her memoir. While bringing up facts about her father, McLintock suggested that something seemed off about her details of her father. Meyer later learned the truth about her father: that he sold her horse, was cheating on her mother, and never really cared for his daughter. This prompted Meyer to destroy the barn her father used as an office.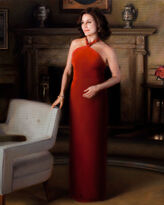 In June 2018, Meyer visited Doha, Qatar for a funeral. While there, she unknowingly took a picture with a warlord. To compensate for this, she flied to Juba, South Sudan, for a photo op with women's rights activist Nyaring Ayun. Meyer gave a speech to a human rights conference on June 11, where she drew controversy for seeming indifferent to the practice of female genital mutilation. During Meyer's trip to the middle east, she became close with Ambassador Al Jaffar. Jaffar ultimately states that the two can't be together because she's white.
On July 13, 2018, Meyer and former members of her staff returned to the White House for a portrait unveiling. However, the unveiling coincided with the 2018 federal government shutdown, meaning that staffers were furloughed during the event. Montez's prepared remarks had to be cut short due to the shutdown.
Meyer published a second memoir titled A Woman First: First Woman in October 2018. It received negative reviews from critics. Coinciding with the release of the book was the leak of Mike McLintock's diary, which had accidentally been left in the office of Leon West. The diary detailed every day of Meyer's presidency. Details about the Uzbek Hostage Crisis, the Medileaks scandal, and Selina's eye job, among other things, were leaked. Meyer received widespread condemnation until it was revealed that Meyer was the one who was responsible for the freeing of Tibet. The news of Tibet drew praise, and President Montez was criticized for taking credit for Meyer's achievement.
Meyer Fund
[
]
Meyer announced she would head The Meyer Fund in January 2018, an organization dedicated to combatting AIDS, illiteracy, and childhood obesity, among other things. However, Meyer closed the Meyer Fund in early 2019 to devote her attention to her 2020 presidential campaign.
In April 2019, the U.S. Attorney's office in New York announced it was launching an investigation into the Meyer Fund, with Andrew Meyer as the main target. With rumors circulating that Andrew was cutting a deal with the police, he and Meyer met and agreed that he should leave the country in exchange for money. On March 1, 2020, Meyer discovered that Andrew had died in a boat explosion while using her mother's boat to flee the country. The U.S. Attorney's office concluded the investigation following his death. In actuality, Andrew had faked his death.
During the party convention in July 2020, Kemi Talbot brought attention back to misdoings by the Meyer Fund, publicly calling on the FBI to reopen their investigation. Meyer, realizing someone higher up has to go down for the Meyer Fund for the story to go away, sacrificed longtime confidant Gary Walsh to the FBI. Walsh was apprehended by the FBI and imprisoned for Meyer's financial misappropriations. It's hinted that Meyer felt deep guilt for sacrificing Walsh, despite never visiting him in prison.
2020 presidential election
[
]
See also: Selina Meyer 2020 presidential campaign
In the wake of Meyer's newfound popularity following the news that she was responsible for negotiating Tibet's independence, Meyer cancelled any plans to build a presidential library. In January 2019, she revealed to her staff that she planned on running for president again in the 2020 presidential election. She began by reuniting with some of her former staff members and finally firing Mike McLintock, blaming her previous failures on his incompetence.
In March 2019, Meyer initially decided to announce her candidacy at an airport in Cedar Rapids, Iowa. However, a mix-up occurred in which her plane landed in Cedar Falls with the rally located in Cedar Rapids. Frustrated by campaign setbacks and destined not to have her fourth presidential run mired by incompetence, Meyer sought to bring in campaign manager Keith Quinn. She unknowingly brings in the wrong Keith Quinn and instead made Ben Cafferty the behind-closed-doors campaign manager.
Meyer formally announced her candidacy outside of the birthplace of Susan B. Anthony in Adams, Massachusetts.
Meyer faced an unexpectedly strong challenge in the primaries from U.S. Senator Kemi Talbot, the former U.S. Attorney for the Southern District of New York. Also in the running were her former running mate and former Connecticut Senator Tom James, Nevada Governor Buddy Calhoun, former Ohio Governor John DeVito, and former New Hampshire Congressman and former staffer Jonah Ryan. At the first primary debate held in Iowa on May 18, 2019, Meyer criticized Talbot for her perceived weakness, telling Talbot to "Man Up!". Meyer drew swift applause from the audience and the phrase would become the new slogan for Meyer's campaign. In the months following the debate, Meyer would find herself upstaged by Senator Talbot's campaign, ultimately falling as low as third place in the polls. In February 2020, Talbot won the Iowa caucus with Meyer making a "come-from-behind" second place finish.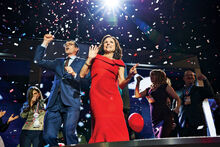 On February 18, 2020, Meyer won the New Hampshire primary decisively. During her campaign in South Carolina, Meyer would achieve assistance from the Chinese government in an effort to rig the primary, which is achieved via a targeted blackout resulting suppression of African American turnout (which Meyer could not rely on due to Talboy's candidacy). Meyer was declared the winner in South Carolina on February 23.
In April 2020, Meyer attended the Nobel Peace Summit in Oslo, Norway, where she accepted the Peace Summit Award, had an international arrest warrant issued against her for war crimes (having ordered a drone strike in Pakistan against a terrorist's wedding), and orchestrated a deal with President Lu of China whereby she would agree to Chinese re-annexation of Tibet in exchange for rigging the 2020 election in her favour. During this time, headlines that she droned an elephant drew ire from animal rights activists, preventing her from crossing the delegate threshold. The Meyer campaign finished the primaries with 1,817 delegates, falling short of the 2,368 delegate threshold needed to win the nomination.
At the 2020 National Convention, Meyer actively considered former Ohio Governor John DeVito for the position as her running mate. Instead of offering Talbot the running mate position or having to serve as Talbot's running mate, Meyer made several shrewd deals to progress closer to the nomination, including promising (possibly insincerely, originally) Buddy Calhoun that she would outlaw gay marriage if she were to become president and neutralizing Tom James by getting a staffer to allege sexual misconduct. However, realizing that she needs the support of Jonah Ryan's delegates in order to reach the nomination, Meyer offered Ryan the position of vice president. Despite initially declining the offer, Ryan accepted. Meyer and Ryan were officially nominated by the convention on July 26, 2020.
On November 3, 2020, the Meyer-Ryan ticket emerged victorious against incumbent president Laura Montez, who was running for re-election.
Full term as president (2021–2025)
[
]
See also: Presidencies of Selina Meyer
Meyer's only full term as president began on January 20, 2021. None of her previous staffers were working during her full term in office, except for Sue Wilson, who had remained in the West Wing during the presidency of Laura Montez. Michelle York served as Meyer's Chief of Staff, having previously convinced her to leave the employment of Tom James during the 2020 National Convention. Additionally, her former campaign manager Keith Quinn served in her administration in a high level capacity.
Meyer assigned longtime confidant Amy Brookheimer to serve as Chief of Staff to her vice president Jonah Ryan. At some point during Meyer's full term in office, Ryan was impeached and removed from office. Considering the distain Meyer has expressed towards Ryan, it's possible Meyer was actively encouraging Ryan's impeachment behind closed doors.
At some point during her term in office, the Chinese government retained control of Tibet, fulfilling a promise Meyer made to President Lu during the campaign.
As part of a promise made to Nevada governor Buddy Calhoun during the convention, Meyer was successful in having same-sex marriage repealed in the United States during her second term. Very little else was accomplished during Meyer's full term in office, as her repeal of gay marriage would be what her full term in office would be remembered for.
Later years
[
]
Meyer left office on January 20, 2025. It is unclear if she decided not to run for re-election in the 2024 presidential election or if she ran and lost, since she would eligible to run again. The fact that Meyer outlawed gay marriage could have made re-achieving the party nomination in 2024 exceedingly difficult, as Meyer's party also occupies LGBTQ-friendly candidates such as Kemi Talbot. Talbot, who Meyer despised, would go on to become president at some point following Meyer's departure from office.
It appears that Meyer was never able to reconcile with Catherine and Marjorie, meaning that she likely had little interaction with her grandson, Richard.
At some point during her remaining years, Meyer oversaw the construction of the Selina Meyer Presidential Library, which was located at Smith College, Massachusetts. Like the original layout for the library, there are lots of vaginal allusions throughout the complex.
Death and funeral
[
]
Selina Meyer spent 20 years back in private life before her death in early 2045 at the age of 76 or 77 (or possibly 75, the confusion arising from Meyer constantly lying about her age). After resting in state at the United States Capitol Building, she was laid to rest days later at the Selina Meyer Presidential Library.
Amongst those in attendance included: former President Laura Montez, former Vice President Andrew Doyle, former two-term President Kemi Talbot (who delivered the eulogy), former Senator Tom James, the Dalai Lama, former House Minority Leader Roger Furlong and his assistant Will, incumbent President Richard Splett, Amy Brookheimer, Dan Egan, Kent Davison and Bill Ericsson. Her former vice president Jonah Ryan was not invited, due to the controversy of him being impeached from office years prior. Former Chief of Staff Ben Cafferty passed years before, thus was unable to attend.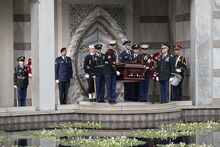 In a surprise turn of events, her former personal assistant Gary Walsh made an appearance towards the end of the ceremony, despite having been framed by Meyer for illegalities associated with the Meyer Fund and subsequently imprisoned for many years. It is also possible that her ex-husband Andrew Meyer (thought to be dead since 2020) also attended in disguise. Her funeral was not attended by her daughter or her grandson. The three instead watched the funeral on television from Catherine's Brownstone and drank margaritas.
Live coverage of her funeral was covered by veteran reporter Mike McLintock of CBS Evening News. However, as McLintock was eulogizing Meyer, news of the death of actor Tom Hanks would interrupt the broadcast and push Meyer out of the news cycle one last time.
Legacy
[
]
Selina Meyer is generally regarded to be one of the most ineffective presidents in American history, and her presidencies are held in low-regard by scholars. When Meyer's first term ended in 2017, she was ranked 43rd out of 44 presidents in terms of effectiveness, one above James Buchanan.
Despite being able to negotiate the independence of Tibet in 2017, Tibet would soon return to Chinese rule in the early 2020s. Meyer's only lasting achievement would be her controversial outlawing of same-sex marriage.
Meyer is widely acknowledged as the first female president of the United States. This distinction would be somewhat muddied by the fact that Laura Montez would be known as the first elected female president of the United States, winning the vote in the Senate that decided the presidency but technically serving as an elevated Vice President. Kemi Talbot, whom Meyer fought for the party nomination in 2020, would go on to become the first two-term female president of the United States.
Political positions
[
]
See also: Political positions of Selina Meyer
Meyer's political party has ambiguous political leanings. Meyer has made vague statements regarding her political stances. Despite this, Meyer has made it clear that she would sacrifice whatever personal convictions she may have if it could help her politically.
See also
[
]
Political tenure
Post-presidency of Selina Meyer
Presidential campaigns
Books written
References
[
]
Offices and distinctions
[
]
U.S. House of Representatives
Preceded by
Porter Marshall
United States Representative from Maryland's 14th District
1999

–

2003
Succeeded by
Unknown
U.S. Senate
Preceded by
Bobby Esposito
United States Senator (Class 2) from Maryland
2003

–

2013
Succeeded by
Unknown
Party political offices
Preceded by
Unknown
Party nominee for Vice President of the United States
2012
Succeeded by
Tom James
Preceded by
Stuart Hughes
Party nominee for President of the United States
2016, 2020
Succeeded by
Eventually Kemi Talbot
Political offices
Preceded by
Unknown
Vice President of the United States
2013

–

2016
Succeeded by
Andrew Doyle
Preceded by
Stuart Hughes
President of the United States
2016

–

2017
Succeeded by
Laura Montez
Preceded by
Laura Montez
President of the United States
2021

–

2025
Succeeded by
Eventually Kemi Talbot
Awards and achievements
Preceded by
Unknown
Recipient of the Peace Summit Award
2020
Succeeded by
Unknown