Veep (Season 7)

Country of origin
United States
No. of episodes
7
Release
Original network
HBO
Originally aired
March 31 – May 12, 2019
Season chronology
"
America owes me an eight-year stay in the White House, and this time, I want a war!
"

– Selina
Veep Season 7 was announced on May 25, 2017. It premiered on March 31, 2019 on HBO and ended on May 12, 2019, bringing the series to a close.
Selina and her staff prepare for a fierce primary campaign, with challengers including Jonah Ryan, Buddy Calhoun, and Tom James. Amy adjusts to an unexpected pregnancy.
Selina prepares to launch her fourth consecutive presidential campaign. However, several setbacks delay her announcement. Also in the race are Jonah, Buddy Calhoun, and Tom James. While pre-campaigning in Iowa, Selina accidentally hires Keith Quinn to run her campaign. Selina finally makes her announcement outside the birthplace of Susan B. Anthony.
Jonah reveals to his staff comprised of Teddy and Bill Ericsson that his new wife is actually his step-sister, or at least used to be. After getting himself into various snafus, Teddy asks Amy to join Jonah's campaign as his campaign manager. After questioning Selina's age, the truth comes out that Jonah's "step-sister" is actually his half-sister.
As the primaries near, Selina finds herself pitted against New York senator Kemi Talbot. Despite coming in second place in Iowa, Selina is able to win New Hampshire and faces a challenge in the upcoming South Carolina primary. Selina learns that Keith Quinn, her official campaign manager, is in touch with Chinese President Lu Chi-Jang, who is very interested in helping her get elected in exchange for Chinese control of the Diaoyu Islands. She agrees to this and, after several coincidences prevents a majority Kemi-supporting voter base from going to the polls, Selina wins South Carolina.
Selina learns that the U.S. Attorney's office in New York is investigating The Meyer Fund for financial misappropriations, with Andrew as the main target. However, Andrew dies in a boat explosion (thus ending the investigation), and Selina connects this to Keith Quinn. Selina also learns that Keith is collaborating with the Chinese so that Selina will win the nomination and lose against Laura Montez, China's preferred candidate, in the general election. To remedy this, Selina offers to give Tibet back to China, which appears to be enough to get President Lu on Selina's side.
The convention approaches and no candidate has received a majority of delegates needed. Selina asks Jonah to be her running mate, and is able to clinch the nomination with his delegates. Meanwhile, Kemi encourages the U.S. Attorney in New York to reopen their investigation into the Meyer Fund. Realizing this Meyer Fund scandal will be enough to uncover several heinous crimes, Selina sacrifices Gary to the FBI as she accepts the party nomination.
Six months later, Selina has become President again and Jonah VP. Selina contemplates her choices leading up to where she is now. 24 years later, Mike, now a CBS news anchor, covers the funeral of Selina Meyer, attended by President Richard Splett and several other of Selina's political rivals who sit in the front row. Coverage of Selina's funeral is interrupted by news of the death of actor Tom Hanks.
Picture

Title

#

No.

Original airdate

"Iowa"
59
1
March 31, 2019

Season premiere. Selina evaluates her past and present campaigns. Jonah's personal life sparks interest among the press. Amy makes an important decision.

"Discovery Weekend"
60
2
April 7, 2019

At an Aspen retreat for rich donors, Selina deals with potential adversaries and allies. Amy's behavior raises Gary's suspicions.

"Pledge"
61
3
April 14, 2019

In the run-up to the first debate, Selina makes a novel campaign proposal. Comments by Jonah create blowback. Dan and Amy take a road trip.

"South Carolina"
62
4
April 21, 2019

Selina and team head to South Carolina, where she seeks an endorsement from a key leader. Gary gets a long-awaited promotion.

"Super Tuesday"
63
5
April 28, 2019
Facing increased scrutiny heading into Super Tuesday, Selina visits Mike to deflect attention from Andrew's legal troubles.
"Oslo"
64
6
May 5, 2019
Selina tries to arrange a meeting via her Finnish contact Minna. Gary helps Catherine plan a big event. Jonah and Amy push an anti-vax message.
"Veep"
65
7
May 12, 2019

Series finale. The nominating fight between Selina and her rivals reaches its climax as their race comes to a historic finish.
On May 25, 2017, it was announced that Veep would return for a seventh season. On September 6 of that year, it was announced it would be the final season.
Showrunner David Mandel said "I don't think were going to jump ahead a year again. One of the areas that really is interesting to me is the campaigning before the campaign. I'm also fascinated about what it [would be like for Selina & Co.] to live in Iowa two years before a national election when every five minutes a different person is knocking on your door. It's a wide-open field of people looking to run against [current President] Montez."
According to Variety on July 30, 2017: 'The next season of the show will likely be picking up in Iowa, as Mandel put it, "many, many months before the caucuses," as Meyer starts her new campaign for the White House. He likes having the show centered on "that wonderful period when many, many people think they can be President of the United States." Also running is Jonah Ryan, who will be a "favorite son" of New Hampshire... Amie Parnes and Jonathan Allen, the authors of the book "Shattered" about Hillary Clinton's 2016 campaign, visited the Veep writers on Friday, Mandel confirmed. The team is looking for ways for how Meyer will deal with the prospect of doing an "autopsy" of what went wrong with her previous campaign.'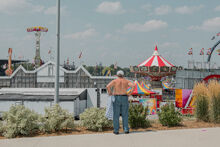 On July 10, 2017, Mandel announced on Twitter that it's the first day back in the writers room. Writing on the season began on August 21, and the season was officially drafted on August 24.  The first table read for the season was held on October 18, 2017.
Filming was expected to begin on October 16, 2017, but this was complicated with the breast cancer diagnosis of Julia Louis-Dreyfus in September 2017. On November 15, 2017, it was announced that production had been postponed until further notice. On January 21, 2018, season seven was officially delayed until 2019, with a Spring 2019 premiere date confirmed that July.
Filming officially began on August 15, 2018 with Julia Louis-Dreyfus healthily returning to work. On October 4, 2018, The New York Times ran an article describing how Veep transformed the Underwood Family Farm in California to look like an Iowa county fair.
Production on the series finale concluded on December 18, 2018.
| Episode | In Production (2018) |
| --- | --- |
| #701 | August 15 - 23, 2018 |
| #702 | August 27 - 31, 2018 |
| #703 | September 17 - 26, 2018 |
| #704 | October 2 - 11, 2018 |
| #705 | October 22 - November 1, 2018 |
| #706 | November 12 - 27, 2018 |
| #707 | December 7 - 18, 2018 |
Community content is available under
CC-BY-SA
unless otherwise noted.