Roger Furlong
House Minority Leader
In office
January 3, 2017 – ???
Member of the
U.S. House of Representatives
from Ohio
In office
???
Vice-Chair of the House Ethics Committee
In office
Until January 3, 2015
"
People are always asking me, "Who is Roger Furlong?" And I always refer them to the same passage of the Good Book, the Scriptures: 'Wherefore by their fruits ye shall know them.'
"

– Furlong
Roger Furlong is an American politician who served as the House Minority Leader of the United States House of Representatives, and a U.S. Representative from Ohio. He is formerly the vice-chair of the House Ethics Committee.
Background
[
]
Personal
[
]
Furlong is married, but doesn't appear to have children. He positions himself as deeply religious, both in the eyes of his wife and the public.
Professional
[
]
Furlong is considered to be one of the most prominent figures in the party.
Furlong is always accompanied by his aide Will, who began working for Furlong when he was 15. Furlong seems to drive sadistic pleasure in forcing Will to utter humiliating quips. It's implied that these lines are heavily rehearsed.
Furlong's congressional district is located around Dayton. In the episode Qatar, Furlong remarks that he flies into Dayton Municipal Airport "every other week".
U.S. House of Representatives
[
]
2014 gubernatorial election
[
]
See also: 2014 Ohio gubernatorial election
In December 2013, Vice President Selina Meyer traveled to Ohio to endorse Congressman Furlong in his 2014 gubernatorial campaign. However, after Meyer's approval rating was revealed to be at just 30%, Furlong told Meyer that he didn't want her endorsement. After Meyer gave a heartfelt interview, Furlong then decided he did want the vice president's support. Furlong went back-and-forth several times before ultimately wanting Meyer to endorse him.
Days later, it was revealed that her staff manipulated the PR bounce by making Meyer cry. Furlong then threatened to drag Meyer's entire staff into an Ethics Committee hearing regarding the Macauley Amendment.
During the campaign, Furlong faced off against a female candidate. Prior to election day, one of the controversies his campaign dealt with was Furlong calling his opponent "honey" during the gubernatorial debate--the irony being that in all of Furlong's vulgarity, his campaign was sidetracked by him calling his opponent "honey".
On the night of the election, Furlong lost his race for the Ohio governorship. He does, however, inexplicably, remain in Congress, albeit now in the minority party, losing his position as vice-chair of the House Ethics Committee and thus losing any ability to investigate the vice president's office.
Subsequent activities
[
]
Following his loss in his gubernatorial race, Furlong expressed open hostility towards Meyer and her staff. As retribution, Furlong anonymously leaked that Meyer and her ex-husband Andrew were feigning their familial relationship during the 2012 presidential election. Furlong would claim to have "boxes" of dirt on Meyer, and to quell his hostility, Meyer made a deal that if she were to run in the 2020 presidential election, he would have a senior position in her administration. In the mean time, Furlong claimed to be focusing on running in the Ohio Senate in 2016. Furlong was furious after Meyer made a slip of the tongue that seemed to imply she would be running in the 2016 presidential election.
Furlong endorsed Meyer's candidacy for president in the 2016 election. He appeared at debate prep for the Meyer campaign in December 2015. When Meyer ascended to the presidency in January 2016, Furlong showed no opposition to Andrew Doyle being chosen for vice president instead of him.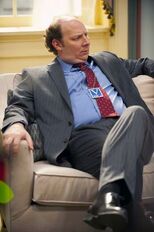 Before Meyer's first speech to a joint session of Congress, Furlong intimidated the Meyer staff for threatening to cut funding for an obsolete submarine fleet, citing the job creation it would impede. However, Meyer accidentally announces more funding during her speech.
Furlong spoke at the 2016 National Convention in Los Angeles, California. In a deleted scene, Meyer temporarily entertained the idea of Furlong for her running mate, but his vulgarity caused her to immediately reconsider.
During the Nevada recount in November 2016, Furlong appeared in Carson City to supervise the recount. Furlong's brash Washington tongue deeply offended one woman. Furlong helped lobby votes for Meyer during the 2017 contingent election.
House Minority Leader
[
]
In 2017, Furlong became the House Minority Leader for the party in Congress, and spent a large part of his tenure in the new position bumping heads with freshman Congressman Jonah Ryan.
In July 2018, Furlong reached across the aisle to House Speaker Jim Marwood and President Laura Montez to form a billl to raise the debt-ceiling to prevent a government shutdown. However, Ryan's congressional coalition known as the Jeffersons voted against the bill, leading to a government shutdown.
Furlong acted as chair of the 2020 National Convention in July 2020. He expressed great interest in making sure the party decides on a nominee and defeats Montez in the general election.
Later life
[
]
In 2045, Furlong attended the funeral of Selina Meyer. He is still accompanied by Will, who Furlong appears to be acting as a caretaker of.
Appearances
[
]
Offices and distinctions
[
]
Party political offices
Preceded by
John DeVito
Party nominee for Governor of Ohio
2014
Succeeded by
Unknown
U.S. House
Preceded by
Unknown
United States Representative from Ohio

Succeeded by


Unknown
Preceded by
Unknown
House Minority Leader
2017–???

Succeeded by


Unknown