This article is part of a series about


Selina Meyer
Political positions • Electoral history • Family

---

Vice President of the United States
Vice presidency
Clean Jobs Bill • Get Moving! • Uzbek hostage crisis • 2015 U.S. government shutdown

---

President of the United States
Presidencies (Timeline)
1st inauguration • 2nd inauguration
Joint session address • Medileaks scandal • Families First Bill • 2016 U.S. banking crisis • Death of Hamza Al Bashir • Independence of Tibet

---

Presidential campaigns
2008 • 2012 (Primaries) • 2012 VP campaign (Selection, Convention, Election)
2016 (Primaries, Convention, Election, Nevada recount)
2020 (Primaries, Convention, Election, Chinese election interference)

---

Some New Beginnings • A Woman First
Trips taken • Residences • Controversies • Meyer Fund • Selina Meyer Presidential Library • Death and state funeral

---
The presidencies of Selina Catherine Meyer lasted from January 24, 2016 to January 20, 2017, and from January 20, 2021 to January 20, 2025. She first assumed office following the resignation of incumbent President Stuart Hughes, and was inaugurated as the 45th president of the United States. She became president while running to be president in the 2016 U.S. presidential election. She became the first U.S. president since Gerald Ford to ascend to the presidency after their successor's resignation, the first female president, and would later become the second president since Grover Cleveland to serve two non-consecutive terms.
During her first term as president, Meyer made a historic trip to Iran to free a detained American reporter; the first time a president had visited Iran since Jimmy Carter in 1977. Meyer was also heavily involved in the drafting of the controversial and unsuccessful Families First Bill. In October 2016, an investigation in the House of Representatives was launched after allegations surfaced that Meyer's campaign purposely got the bill to fail due to it's unpopularity. Her administration was also caught in the middle of the Medileaks scandal, in which her administration was accused of hacking the medical and social security records of a child. After securing the party nomination in the 2016 presidential primaries, Meyer and her running mate Connecticut Senator Tom James faced off against Arizona Senator Bill O'Brien in the general election. However, after the Electoral College gridlocked and the House of Representatives failed to choose a president, Meyer ultimately lost the presidency to Laura Montez.
Before leaving office in 2017, Meyer made a historic deal with the Chinese government to guarantee independence of Tibet. Tibet was freed as Montez became president, with the American press giving credit of the deal to Montez. In October 2018, a journal leak revealed the extent of Meyer's involvement in the deal, prompting Meyer to run for president again in the 2020 presidential election. With the assistance of the Chinese government, Meyer won a full term in office. Her full term in office saw Meyer overturn the allowance of same-sex marriage in the United States. During her full term in office, sovereignty of Tibet would return to the Chinese, fulfilling a campaign promise Meyer secretly made to the Chinese in exchange for their support.
Despite being hailed as the first female president and vice president, Meyer is generally considered to be one of the most ineffective presidents in American history and her presidencies are usually ranked among the worst.
First presidency (2016–2017)
[
edit
|
edit source
]
See also: First Inauguration of Selina Meyer
Meyer was the second person to assume the office of president of the United States following their predecessor's resignation, the first being Gerald Ford in 1974. She was sworn in on January 24, 2016. The swearing in was held in a White House state room. The inauguration marked the commencement of Meyer's first term (which lasted about a year) as president, following the resignation of President Stuart Hughes.
Immediately after becoming president, Meyer addressed the nation, wearing squeaking shoes. This was widely mocked on social media.
During her swearing-in, Meyer said "preser... protect, and defend the Constitution of the United States." House Speaker Jim Marwood demanded that she took the oath again, and she was sworn in the next day at a factory in New Hampshire.
Meyer inherited a majority of her personnel from her predecessor, Stuart Hughes. Despite this, Meyer did make several personnel changes. On her first day as president, Meyer accidentally fired Leslie Kerr, a Hughes appointee who was in a high position in the State Department. The move angered Iran. Meyer also appointed Ann James to serve as Secretary of Housing and Urban Development.
See also: 2016 United States vice presidential confirmation
Soon after becoming president, Meyer nominated Senator Andrew Doyle to be her vice president. Doyle was confirmed by Congress in February 2016. This was the shortest vice presidential vacancy in United States history.
On February 25, 2016, Meyer welcomed Israeli Prime Minister Ben-Haim and his wife to the White House. Despite being able to broker a deal with the prime minister, the dinner was controversial due to it's extravagance and cost.
In April 2016, Meyer embarked on a 10-day world tour, making successful trips to Jordan, Egypt, and Israel. Meyer planned on ending her tour with a historic trip to Iran in an effort to secure the release of detained reporter Leon West, the first time a president had visited Iran since Jimmy Carter in 1977. However, Meyer's visit to Israel went so well that they intentionally delayed the release of West by an extra day. West flew home to the United States aboard Air Force One on May 3, 2016. While there, he confronted Meyer about the delay in his release, threatening to talk to the press about this. Meyer's tour was popular and contributed to her winning the presidential nomination in 2016.
See also: 2016 Hamza Al Bashir airstrike
In 2016, a United States drone strike ordered by President Meyer targeted a wedding near the Pakistani border. The target of the operation was Hamza Al Bashir, a prominent member of the Democratic Republic of Afghanistan, who was at the wedding. The drone strike decimated a tent at the wedding, killing Al Bashir and numerous civilians. The drone strike violated Pakistani sovereignty laws.
In April 2020, the International Criminal Court placed a warrant for Meyer's arrest for war crimes for the drone strike. Meyer sought asylum at the Norwegian embassy in Oslo and fled back to the United States.
See also: Independence of Tibet
In early November 2016, Chinese hackers breached White House computers. After accidentally sending an inappropriate tweet, United States President Selina Meyer would blame the Chinese hackers for the tweet and impose a series of strict sanctions on the Chinese.
On December 19, 2016, President Meyer arrived at Camp David to negotiate with Chinese President Lu Chi-Jang, with the help of former Finnish Prime Minister Minna Häkkinen. Unbeknownst to the Americans, the Chinese economy was in a far worse state than anyone realized. In exchange for the lifting of the sanctions and the fulfillment of Chinese demands for industrial metals, the Chinese prepared to discuss a framework for Tibetan independence--a path to self-determination, similar to Hong Kong's 'one country, two systems' concept. Lu and Meyer were able to sign a deal on December 21, 2016.
In January 2017, after finding out that her presidency would end later that month, Meyer wanted to accelerate the process of Tibet's independence, and went through Qatari ambassador Al Jaffar. According to him, the Chinese were hesitant to move forward with Tibet now that she will be out of power. However, Meyer assured Jaffar that she will be a pivotal part in the Tom James administration, and that she will continue as his vice president.
However, the vote in the United States Senate on January 5, 2017 resulted in Laura Montez being elected as the new president, effectively putting Tibetan independence on hold. On January 20, 2017, minutes into the presidency of Laura Montez, China officially released Tibet and sent the Tibetan spiritual leaders to Andrews Air Force Base. Montez was given immediate credit for the freeing of Tibet. In 2017, she was awarded the Nobel Peace Prize. However, in October 2018, a leak revealed that Meyer was responsible for the freeing of Tibet all along. Meyer was awarded the Peace Summit Award in April 2020 for her work.
See also: Medileaks scandal
In March 2016, the Meyer administration was involved in the hacking of medical records of a young girl for a speech, and using child mortality data from the same breach for a campaign mailer for Meyer's re-election campaign. The Meyer administration fired several key officials related to the breach, including long-time Meyer aide Dan Egan. In October 2016, it was revealed that some more of Meyer's close allies were involved in the data hack. Bill Ericsson, who had joined the Meyer administration earlier that year, was scapegoated and arrested that November.
Considering the largeness of the scandal and how close to election day the congressional hearings occurred, it's likely that the Medileaks scandal had a large impact on the tied 2016 presidential election.
See also: Families First Bill
In February 2016, within weeks of the resignation of Stuart Hughes, Meyer was planning the Families First Bill, but could only accomplish it with money saved from Hughes' plans. At Meyer's joint session address, Meyer mistakenly allowed Hughes' plans to continue.
In October 2016, the bill was put to a vote in the House of Representatives. The Meyer team, realizing how toxic the bill is, deliberately tried to botch the vote so they could win the election. Gary Walsh, Meyer's personal aide, hired lobbyists and former Meyer staffers Amy Brookheimer and Dan Egan to convince congresspeople to vote against the bill. Concurrently, White House Chief of Staff Ben Cafferty had been using Jonah Ryan and Richard Splett to lobby congresspeople in favor of the bill, knowing their incompetence will result in a 'no' vote. However, Congressman Moyes discovered that Brookheimer and Egan presented the same data that Ryan and Splett did, believing that Meyer wants her own bill to fail. Meyer brought in Congressman Owen Pierce and offered him an ambassadorship in exchange for him voting no. The bill failed in the house that night.
After the Families First bill failed to pass the house, Representative Moyes announced he wanted hearings into the events leading up to the Families First vote. Meyer herself publicly declared that there wasn't an ounce of truth that she used lobbyists to get the bill to fail. Cafferty insisted that the Meyer administration worked hard to get the bill passed. Sue Wilson was questioned as to why there was no record of Pierce's meeting with Meyer. Members of the Meyer staff one-by-one named Communications Director Bill Ericsson as the one responsible for both the data breach and the use of lobbyists for the Families First Bill. Ericsson was arrested on November 10, 2016 and harbored resentment towards Meyer for throwing him under the bus and not considering a pardon.
See also: 2016 United States banking crisis
On November 9, 2016, referred also to as Black Wednesday, the Dow Jones experienced it's worst day since the 2008 economic crisis. Wanting to neutralize Tom James, President Meyer made James economy czar, forcing him to take the fall for any financial woes. After taking over his economic task force, Meyer met E.M. Wheelright CEO Charlie Baird and would develop a romantic relationship with the banker.
On December 9, 2016, the Dow Jones dropped 3,220 points. Meyer's economic task-force, led by Tom James, came to the decision that they had to bail out three banks. Meyer bailed out Janders Capital because they were based in Illinois, a crucial state in the upcoming congressional presidential vote. Having to choose between Paulsten-Berheim and E.M. Wheelright (Baird's bank), Meyer hesitated to make a decision. Meyer was frightful of the appearance of bailing out a cohort's bank, even though bailing out Wheelright would be a better decision for the economy. On December 11, E.M. Wheelright entered chapter 11 bankruptcy. This ended Baird's and Meyer's relationship. On December 12, the Dow Jones began to recover and further economic devastation was averted.
In January 2017, Meyer pardoned private-prison magnate Sherman Tanz. This pardon was extremely controversial. Meyer's true intentions for pardoning Tanz would be for him to fund a possible run in 2020. Meyer was questioned by staffer-turned-reporter Dan Egan in January 2018 regarding the pardon. Meyer quickly changed the subject and avoided the topic.
2016 presidential election
[
edit
|
edit source
]
See also: 2016 United States presidential election
Meyer's interests in running for president in the 2016 presidential election were sparked in April 2015, while Meyer was serving as Hughes' vice president. Hughes privately revealed that he would not be running for re-election due to the fallout from the Uzbek hostage crisis. Meyer announced her candidacy officially on October 18, 2015.
The major contenders for the party nomination in 2016 were Minnesota Governor Danny Chung, baseball manager Joe Thornhill, former Secretary of Defense George Maddox, and Nevada Congressman Owen Pierce. Meyer came in second at the first primary debate held in December 2015. Meyer's ascension to the presidency occurred in the midst of her primary campaign, just days before the New Hampshire primary. However, despite the positive press surrounding Meyer's sudden presidency, Meyer's initial blunders as president--namely the firing of Leslie Kerr from the State Department, provoking tensions with Iran--resulted in her coming in third in New Hampshire. Despite her initial setbacks in the primaries, Meyer was able to rebound and won the party nomination before the 2016 National Convention. While at the convention, Vice President Andrew Doyle announced he would be stepping down due to health issues. Meyer instead nominated Connecticut Senator Tom James as her running mate. James' popularity on the campaign trail resulted in him overshadowing Meyer during their campaign appearances.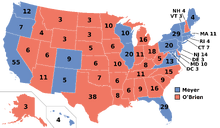 The Meyer-James ticket faced off against Arizona Senator Bill O'Brien and his running mate New Mexico Senator Laura Montez in the general election. The result on election night was a 269-269 electoral tie, leaving the presidency to be decided by congress. Meyer was projected to win the popular vote on election night. In the state of Nevada, returns showed that O'Brien's lead was less than half a percent, which by state law allowed for a recount. It was revealed that an anti-Meyer postal employee had hoarded ballots. The ballots skewed heavily towards O'Brien, extending his lead in the state and allowing him to surpass Meyer in terms of the national popular vote.
The presidential vote in the House of Representatives was held on January 3, 2017, following the provisions of the Twelfth Amendment to elect the president between candidates Selina Meyer and Bill O'Brien. Notably, Missouri, Pennsylvania, and Vermont abstained from the vote, in an effort to prevent any candidate from achieving 26 votes. Neither O'Brien nor Meyer received a majority of the vote. On January 5, House Speaker Jim Marwood declared that the House of Representatives would not convene again to decide the presidency.
The presidential vacancy added more importance to the vote in the Senate on January 5, where the vice president-elect would become president-elect. Meyer was offered the position of vice president in a potential Tom James administration, and despite expressing refusal to serve in the position again, reluctantly accepted the offer. However, the vote in the Senate awarded the presidency to Laura Montez, crippling any hopes of Meyer returning to power in a James administration. Montez officially was sworn-in on January 20, 2017.
2020 presidential election
[
edit
|
edit source
]
See also: 2020 United States presidential election
After her loss in the 2016 presidential election, Meyer was institutionalized at the Whispering Sands Wellness Center in Arizona. After spending months at the center, Meyer relocated to New York City where she lived with her daughter Catherine. As early as January 2018, Meyer expressed interest to run again for president in the 2020 presidential election. However, Meyer cancelled any plans to run again after a chat with her former Chief of Staff Ben Cafferty, who advised her that she wouldn't have the party support to run again.
Coinciding with the release of her 2018 memoir A Woman First: First Woman was the leak of Mike McLintock's diary, which had accidentally been left in the office of reporter Leon West. The diary detailed every day of Meyer's presidency. Details about the Uzbek Hostage Crisis, the Medileaks scandal, and Selina's eye job, among other things, were leaked. Meyer received widespread condemnation until it was revealed that Meyer was the one who was responsible for the freeing of Tibet. The news of Tibet drew praise, and President Montez was criticized for taking credit for Meyer's achievement. Meyer's newfound popularity encouraged her to cancel any plans to build a presidential library and devote all her attention to running for president for a fourth time. She began by reuniting with some of her former staff members and finally firing Mike McLintock, blaming her previous failures on his incompetence.
Meyer formally announced her candidacy outside of the birthplace of Susan B. Anthony in Adams, Massachusetts.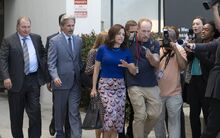 Meyer faced an unexpectedly strong challenge in the primaries from U.S. Senator Kemi Talbot, the former U.S. Attorney for the Southern District of New York. Also in the running were her former running mate and former Connecticut Senator Tom James, Nevada Governor Buddy Calhoun, former Ohio Governor John DeVito, and former New Hampshire Congressman Jonah Ryan. The Meyer campaign finished the primaries with 1,817 delegates, falling short of the 2,368 delegate threshold needed to win the nomination.
At the 2020 National Convention, Meyer actively considered former Ohio Governor John DeVito for the position as her running mate. Meyer made several shrewd deals to progress closer to the nomination, including promising Buddy Calhoun that she would outlaw gay marriage if she were to become president and neutralizing Tom James by getting a staffer to allege sexual misconduct. However, realizing that she needs the support of Jonah Ryan's delegates in order to reach the nomination, Meyer offered Ryan the position of vice president. Despite initially declining the offer, Ryan accepted. Meyer and Ryan were officially nominated by the convention on July 26, 2020.
On November 3, 2020, Meyer and Ryan won the election against incumbent President Laura Montez. Their win was partly attributed to Chinese interference, as per a deal Meyer made with Chinese President Lu Chi-Jang in April of that year.
Meyer announced The Meyer Fund in 2018, an organization dedicated to combatting AIDS, illiteracy, and childhood obesity, among other things. However, Meyer closed the Meyer Fund in early 2019 to devote her attention to her 2020 presidential campaign.
In April 2019, the U.S. Attorney's office in New York announced it was launching an investigation into the Meyer Fund, with Andrew Meyer as the main target. With rumors circulating that Andrew was cutting a deal with the police, he and Meyer met and agreed that he should leave the country in exchange for money. On March 1, 2020, Meyer discovered that Andrew had died in a boat explosion while using her mother's boat to flee the country. The U.S. Attorney's office concluded the investigation following his death. In actuality, Andrew had faked his death.
During the party convention in July 2020, Kemi Talbot brought attention back to misdoings by the Meyer Fund, publicly calling on the FBI to reopen their investigation. Meyer, realizing someone higher up has to go down for the Meyer Fund for the story to go away, sacrificed longtime confidant Gary Walsh to the FBI. Walsh was apprehended by the FBI and imprisoned for Meyer's financial misappropriations. It's hinted that Meyer felt deep guilt for sacrificing Walsh, despite never visiting him in prison.
Full presidency (2021–2025)
[
edit
|
edit source
]
See also: Second Inauguration of Selina Meyer
Meyer's second inauguration was held on January 20, 2021. This marked the commencement of Meyer's full term in office and Jonah Ryan's tenure as vice president. As per Meyer's request, singer Billy Joel performed at the inauguration.[2]
Meyer's only full term as president began on January 20, 2021. None of her previous staffers were working during her full term in office, except for Sue Wilson, who had remained in the West Wing during the presidency of Laura Montez. Michelle York served as Meyer's chief of staff, having previously convinced her to leave the employment of Tom James during the 2020 National Convention. Additionally, her former campaign manager Keith Quinn served in her administration in a high level capacity
Meyer assigned longtime confidant Amy Brookheimer to serve as chief of staff to her vice president Jonah Ryan. At some point during Meyer's full term in office, Ryan was impeached and removed from office. Considering the distain Meyer has expressed towards Ryan, it's possible Meyer was actively encouraging Ryan's impeachment behind closed doors.
Meyer appointed her personal physician Hector Abernathy to serve as the director of the CDC.
During the 2020 presidential election, Meyer negotiated with Chinese President Lu Chi-Jang that she would return Tibet to Chinese sovereignty in exchange for his support during the primaries and subsequent general election.
On January 21, 2021, Chinese tank movements were reported near the Tibetan border. Chinese soldiers were armed with machine guns, rocket launchers, and mortars. U.S. intelligence made it clear that the Chinese intended to invade Tibet. Meyer, while publicly condemning China's actions, did little to combat the actions of the Chinese military. Tibet would officially return to Chinese sovereignty in 2021.
Repeal of same-sex marriage
[
edit
|
edit source
]
As part of a promise made to Nevada Governor Buddy Calhoun during the 2020 convention, Meyer was successful in having same-sex marriage repealed in the United States during her full term. This was highly controversial, and Meyer ruined her personal relationship with her daughter for enacting the policy.
2024 presidential election
[
edit
|
edit source
]
See also: 2024 United States presidential election
As Meyer only served twelve months during her first term in office, Meyer would have been eligible to run for president again in the 2024 presidential election for a second full term in office. However, Meyer did not serve another term as president, which means that Meyer either unsuccessfully ran for the party nomination, unsuccessfully ran in the general election, or decided not to run at all.
Meyer would be succeeded as president (possibly immediately) by rival Kemi Talbot, who would go on to serve two full terms as president.
Selina Meyer is generally regarded to be one of the most ineffective presidents in American history, and her presidencies are held in low-regard by scholars. When Meyer's first term ended in 2017, she was ranked 43rd out of 44 presidents in terms of effectiveness.
Despite being able to negotiate the independence of Tibet in 2017, Tibet would soon return to Chinese rule in the early 2020s. Meyer's only lasting achievement would be her controversial outlawing of same-sex marriage.
Meyer is frequently regarded as the first female president of the United States. This distinction would be somewhat muddied by the fact that Laura Montez would be known as the first elected female president of the United States, winning the vote in the Senate that decided the presidency. Kemi Talbot, whom Meyer fought for the party nomination in 2020, would go on to become the first two-term female president of the United States.
↑

Elected to vice presidency in 2012. President resigned and Meyer assumed presidency during term.
Community content is available under
CC-BY-SA
unless otherwise noted.