"
My extremist colleagues on the other side of the aisle have launched a full-fledged and savage attack against the poor and disadvantaged of this country!
"
The opposition party in the Veep universe is a major political party in the United States. It rivals the party of Selina Meyer.
Its most notable members are former President Laura Montez, House Speaker Jim Marwood, and House Majority Leader Mary King.
The color red is associated with the opposition party.
Despite Selina Meyer winning states Democrats traditionally win in the 2016 presidential election, the writers and creators of Veep insist that the main party is not affiliated with either the Democratic or Republican party. In fact, the words Democrat and Republican have never been used in the entirety of Veep. It's entirely possible the Veep universe uses different political parties entirely.
The opposition party appears to lean more conservatively. Bill O'Brien, the party's 2016 presidential nominee, favored very strict immigration laws and the construction of a border fence. In the episode Chung, Selina Meyer referred to O'Brien as the leader of the "pro-Caucasian caucus".
2004 & 2008 presidential election
[
edit
|
edit source
]
The opposition was successful in the 2004 election, winning 49 states against unpopular candidate Blake Stewart. This candidate became the 43rd President of the United States, and won a second term in 2008.
2012 election & 2014 midterms
[
edit
|
edit source
]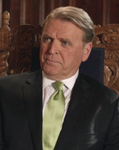 The opposition nominated an unknown candidate in the 2012 presidential election. Abraham Buttrick was the opposition party's candidate for vice president. The ticket lost against the Hughes-Meyer ticket in the general election.
The opposition party was able to take the House by a large margin in the 2014 midterm elections.
In the 2016 election, Arizona Senator Bill O'Brien and New Mexico Senator Laura Montez were nominated for President and Vice President, respectively, to run against sitting President Selina Meyer and her running mate, Tom James.
The election ended in an electoral college tie, which led to a contingent election in Congress. Neither presidential nominee was able to secure a majority in the House of Representatives. The Senate produced a tie during its Vice-presidential vote. Sitting vice president Andrew Doyle then crossed the aisle and broke the tie in favor of Laura Montez. Montez succeeded Meyer as president of the United States in 2017.
Laura Montez lost re-election in 2020 to former President Selina Meyer.
The opposition party likely won at least one election between 2024 and 2040. They lost the elections of 2040 and 2044 to current President Richard Splett.
Community content is available under
CC-BY-SA
unless otherwise noted.