Minna Häkkinen

Prime Minister of Finland
In office
Until 2015

Managing Director of the
International Monetary Fund

In office
2015–2017
Personal details
Spouse
Osmo Häkkinen (likely formerly)
Children
Otto
Minna Häkkinen is a Finnish politician, diplomat, and economist who is currently serving as UN Special Envoy for Election Monitoring. Prior to this, she served as the Head of the International Monetary Fund from 2015 to 2017, and the Prime Minister of Finland until 2015.
Minna is married to Osmo Häkkinen, and has one son, Otto. She has a difficult relationship with her husband, with the two seeming to only stay together for the sake of her career. However, it appears her and Osmo have split up, as she admits to being in a sexual relationship with Nikolai Genidze. Her son attempted to commit suicide by weighting his boots and jumping into an ice hole, and now no longer speaks to her.
She has shown fluency in Finnish, English and Mandarin, and, as a Finn, also likely speaks Swedish.
Häkkinen was appointed as the Prime Minister of Finland sometime before January 2015. By November 2015, Häkkinen had left office as prime minister but had since been elected Head of the International Monetary Fund (IMF), noting that Selina Meyer did not vote for her. Sometime before 2018, Häkkinen had been appointed UN Special Envoy for Election Monitoring, tasked with supervising elections in developing countries.
In political circles she is known as "The Finnish Wolf", which is also the title of her book.
Meetings with Selina Meyer
[
edit
|
edit source
]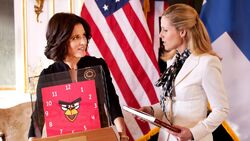 In January 2015, Häkkinen hosted U.S. Vice President Selina Meyer, who attended the trip in place of President Stuart Hughes to finalize a trade agreement between the two nations. During the trip, Meyer was repeatedly asked about the "50 Ways to Win in Denver" song that Meyer had performed days earlier that was seen as "europhobic". Meyer's acting communications director Dan Egan apologized for the song. However, after Häkkinen was offended by the presumption of offense, Egan apologized for the apology.
During a reception in Helsinki, Meyer was sexually assaulted by Häkkinen's husband, Osmo. Despite this, Meyer and Häkkinen appeared pleasant towards each other.
In November 2015, Häkkinen appeared as the keynote speaker at an economic summit known as Employcon in Detroit, Michigan. She was there to deliver a talk on economics and promote her new book The Finnish Wolf. Since last meeting Meyer, she was elected to be the Managing Director of the International Monetary Fund (IMF), although notes that Meyer did not vote for her.
While there, Häkkinen spoke with Jonah Ryan (mistakenly believing he is a part of Meyer's entourage) and tells him that Meyer had criticized the second amendment during a conversation about the death of Emily Lafuente. This caused a controversy for Meyer, who had to attend a gun show the next day to make up for this comment.
Häkkinen later pressured Meyer to make her announcement about the 7000 new jobs in Turville Industries, despite Meyer having been informed by Andrew Meyer that the company is due to go bust in six months. However, this information was not passed on to Häkkinen before the discussion. Häkkinen took it upon herself to make the announcement anyways despite Meyer's reluctance.
2016 Camp David negotiations
[
edit
|
edit source
]
In December 2016, Häkkinen was brought to Camp David to act as a mediator and translator between the Chinese delegation and now-President Meyer at the request of the Chinese. She gave Meyer tips on how to negotiate with the Chinese.
Häkkinen broke the news to Meyer that the Chinese were in a poor economic situation due to the sanctions Meyer imposed on them a month earlier, and that they would be open to discussing Tibetan independence in exchange for the removal of the sanctions. Meyer and Chinese President Lu Chi-Jang signed a deal on December 21, though Tibetan independence wasn't official until January 20 of the following year, during the first day of Laura Montez's presidential administration.
2018 Georgian presidential election
[
edit
|
edit source
]
In February 2018, Häkkinen appeared in the country of Georgia, acting as the United Nations Special Envoy for Election Monitoring. Meyer, now an ex-president, was also there to supervise the 2018 Georgian presidential election. Despite only having met three times before, Häkkinen now referred to Meyer as her best friend.
During the election, Häkkinen expressed staunch disagreement with incumbent Georgian President Murman Shalikashvili. Meyer discovered that Häkkinen had been in a sexual relationship with Nikolai Genidze, the pro-reform candidate challenging Shalikashvili in the election. On the day of the election, after it appeared that significant electoral fraud had been committed to help Shalikashvili, Häkkinen organized a press conference with the International Electoral Commission where she planned to announce they believe the election had been undemocratic. However, Meyer dissuaded her, questioning Häkkinen's judgement and lack of bias, particularly with her relationship with Genidze. Taken aback, Häkkinen agreed and said she would recuse herself.
By 2020, Meyer had finally been recognized for her work in the Tibetan independence negotiations. She attended a gala in April 2020 held by the World Summit of Nobel Peace Laureates to accept the Peace Summit Award. Meyer tried to have Häkkinen arrange a meeting with Chinese President Lu Chi-Jang. In an attempt to dissuade her from talking with Lu, Keith Quinn confronted Meyer and threatened to expose the fact that her administration was responsible for a drone strike that killed innocent wedding goers whilst targeting a terrorist, which also violated the sovereignty of Pakistan and thus constitutes a war crime. Afterwards, Meyer and Häkkinen met up and Meyer accidentally revealed information about the drone strike. Meyer tried to pass it off as American slang, but Häkkinen was shocked and quickly reported Meyer to Interpol. After leaving the ceremony, Meyer was informed by Kent Davison that the International Criminal Court has issued a warrant for her arrest, forcing her, Davison, and Ben Cafferty to seek asylum at the Finnish Embassy.
The following day, Häkkinen tried to get Meyer used to the formalities and procedure of living in the embassy, such as labeling food and washing up after oneself, which Meyer did not react well to. Meyer was able to escape the embassy and police through a clandestine network of underground tunnels.
Häkkinen was last seen being ignored by Meyer on her way out of the ceremony after accepting the award.
She is portrayed by Sally Phillips.
Political offices
Preceded by
Unknown
Prime Minister of Finland
Until 2015
Succeeded by
Unknown
Business positions
Preceded by
Unknown
Managing Director of the International Monetary Fund
2015–2017
Succeeded by
Unknown
Community content is available under
CC-BY-SA
unless otherwise noted.