Mike McLintock

White House Press Secretary
In office
January 24, 2016 – January 20, 2017
President
Selina Meyer
Vice President's Director of Communications
In office
January 20, 2013 – January 24, 2016
Vice President
Selina Meyer
Personal details
Born
Michael James McLintock
January 12, 1965
Employer
Buzzfeed (2019-20)
CBS News (2020-present)
Term
Anchor of CBS Evening News
Spouse(s)
Wendy Keegan (m. 2015)
Children
Ellen • Maude • Milo • Henry
Michael James McLintock (born January 12, 1965) is an American political aide, journalist, and news anchor for CBS News. He served as the White House Press Secretary during Selina Meyer's first term in office from 2016 to 2017.
McLintock became Meyer's press secretary in 1998 and served under her during her tenure in congress. He ran Meyer's unsuccessful 2012 primary campaign, and served as Meyer's director of communications while she was vice president. McLintock helped Meyer write her negatively-received 2018 memoir A Woman First: First Woman.
In 2019, McLintock joined Buzzfeed News, and his podcast received national attention. He joined CBS News in 2020, covering the 2020 National Convention. McLintock later became the host of CBS Evening News.
Background
[
]
Professional
[
]
In Full Disclosure, McLintock claims to have worked for a congressman in the 1990s, and once conspired to do a "suicide pact" with several others, so if he got fired, they all would go. They all were fired as a result.
McLintock joined Selina Meyer during her 1998 congressional campaign, after she forced Andrew to fire her previous communications director, with whom he'd been having an affair with.
McLintock became close to Meyer during her time in the Senate, to which she was elected in 2002. In Kissing Your Sister, he implied that she drank heavily during this time and referred to her as "Jukebox Judy".
McLintock was the one who ran her 2012 primary campaign to third place.
Career in politics
[
]
VP's Director of Communications (2013–2016)

[

]
After Meyer became vice president in 2013, McLintock served as her communications director. He frequently used a fake dog named Simon to get out of things he doesn't want to do, which became an open secret in Washington circles.
McLintock felt increasingly demoralized and unsuccessful by his job. In November 2014, McLintock bought a boat that plunged him into severe debt. He promptly doubled down by buying a new car, putting his debt at over $100,000. On multiple occasions, he attempted to coerce Meyer into buying his boat or giving him money to pay off his debt.
In June 2015, McLintock married fashion reporter Wendy Keegan. He spent his honeymoon at home having sex and watching old movies. In fall 2015, McLintock and Keegan unsuccessfully attempted to conceive a child through fertility treatments.
During Meyer's 2016 presidential campaign, McLintock avoided responsibility. At the campaign announcement in October 2015, he accidentally called childcare activist Alicia Bryce a "cow". In December 2015, McLintock was briefly placed in charge of Meyer's agenda as campaign manager Dan Egan was sent to the hospital. When Meyer briefly considered dropping out of the race, McLintock began considering of a life at home with Keegan. However, Meyer became president after Stuart Hughes announced his resignation in January 2016.
White House Press Secretary (2016

–

2017)

[

]
McLintock became White House Press Secretary in January 2016 following Selina Meyer's ascension to the presidency. He initially had a great relationship with the press, but in the first few days, appeared to be too "jokey". In February 2016, McLintock collaborated with Dan Egan and communications director Jim Owens to write Meyer's first joint session address. The address was punctuated with Meyer inadvertently returning to Hughes' old spending plans.
Despite having a new position, McLintock continued to express contempt towards his job. McLintock helped Meyer with debate prep in September 2016, and according to Wendy, McLintock is the reason Meyer won the first debate. McLintock also had increasing difficulty selling the Families First Bill to the press, who dubbed it the "Mommy Meyer bill". McLintock briefly snapped at Meyer in the oval office. He later drowned his sorrows at the weekly "Friday Night Drinks".
McLintock attempted to avoid any association with the administration's attempts to get the Families First Bill to fail in the House of Representatives. However, after Gary Walsh explained that they had mistakenly used two different plans to lobby congresspeople, McLintock became fully aware of the administration's actions. In October 2016, McLintock testified before a congressional committee regarding the voice memos the administration had been sending to each other in the lead-up to the Families First vote.
On November 8, 2016, the presidential election was projected to end in an electoral tie. McLintock wrote Meyer's November 9 oval office address, where she claimed to be in "bare-faced awe of the majesty of our democratic system". McLintock also wrote Meyer's remarks regarding the possible recount in Nevada.
After the election, Keegan told McLintock that they will be adopting a Chinese baby. After Meyer accidentally sent a tweet and blamed it on Chinese hackers, she attempted to justify it by imposing new sanctions on China--including a ban on all foreign adoptions. McLintock and Keegan began looking for a surrogate. In December 2016, McLintock discovered that not only is his surrogate pregnant with twins, but the Chinese sanctions were lifted, meaning his adoption request has been approved.
Through the lens of Catherine Meyer's unreleased 2017 documentary Kissing Your Sister, it was revealed that the staff had been planning on firing McLintock for months, and that he would have been let go after the inauguration if Meyer had been elected to another term.
Upon finding out that Meyer will be replaced by Bill O'Brien's running mate Laura Montez, McLintock looked forward to raising his new Chinese daughter with Wendy at home. His twins were in utero at the time.
A Woman First: First Woman
[
]
After being out of work for a year, McLintock briefly returned to Meyer's entourage in January 2018. Meyer announced she was writing a memoir in an interview with CBS This Morning, and needed McLintock's extensive diary to outline specific details of Meyer's time in office. McLintock expressed continual frustration throughout the writing process because he hadn't yet been paid.
In April 2018, McLintock briefly became close to Meyer, digging deep into her past for the memoir. McLintock connected the dots on some of Meyer's fuzzy memories of her father and came to the realization that he was actually not the upstanding citizen she thought he was. Meyer destroyed her father's barn-office after these revelations, and discovered that she may have been unfair towards her often-maligned mother.
Meyer's memoir, A Woman First: First Woman, was officially released in October 2018. The book received primarily negative reviews.
After applying for a job with Leon West in August 2018, McLintock accidentally left his diary behind. The diary's extensive details about the Meyer administration inspired West to pen an article exposing many of the illicit acts committed by Meyer and her close aides. The article was published in October 2018 and detailed Meyer's involvement in the Medileaks scandal, the Uzbek Hostage Crisis, and her 2015 affair with Ray Whelans. Upon McLintock's request, Meyer joked in an interview with the Tonight Show that she didn't "exercise good judgement" sleeping with Whelans.
Fortunately for Meyer, the diary also detailed Meyer's exhaustive role in the freeing of Tibet--which was initially attributed to Laura Montez. The positive press surrounding Meyer's involvement in Tibet overshadowed the negative stories and inspired Meyer to run for president again in the 2020 presidential election. Despite his belief that he'd be playing a large part in her campaign, Meyer officially fired McLintock in January 2019. McLintock's role on the campaign was filled by Leon West.
Career in journalism
[
]
Buzzfeed (2019

–

2020)

[

]
McLintock briefly served as a community college teacher before joining Buzzfeed magazine in March 2019. McLintock interviewed Selina Meyer on the campaign trail several times. McLintock became Deputy Senior Editor in April 2019. In May 2019, McLintock wrote a piece titled "An Open Letter to Andrew Meyer", after McLintock was scammed by Andrew Meyer via faulty investments.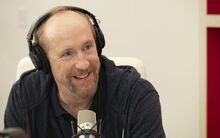 In February 2020, Wendy suggested that she and McLintock adopt another child from China so their adopted Chinese daughter can feel more at home. During a meeting at the Chinese embassy in Washington, D.C., one of the officials asked McLintock to pass along a message to Selina Meyer from Chinese President Lu Chi-Jang regarding China's possible influence in the upcoming primaries in Meyer's favor.
McLintock launched a Buzzfeed podcast in February 2020 called "McLinTalk". The podcast would give McLintock even more influence.
CBS News (2020

–

present)

[

]
In April 2020, McLintock sold "McLinTalk" to CBS News and was brought in as a special correspondent. One of McLintock's first assignments at CBS was interviewing Meyer regarding her controversial drone strike of an elephant. During the 2020 National Convention, McLintock reported on the contested convention alongside CBS This Morning host Jane McCabe.
McLintock would gain respect throughout the journalism community, despite his apparent incompetence. Sometime later, he was promoted to the lead anchor of the CBS Evening News. In 2045, McLintock reported on the death of his former boss, former President Selina Meyer. However, as McLintock was eulogizing Meyer, news of the death of actor Tom Hanks would push Meyer out of the news cycle one last time.
Gallery
[
]
Offices and distinctions
[
]
Political offices
Preceded by
Unknown
White House Press Secretary
2016

–

2017
Succeeded by
Unknown
Media offices
Preceded by
Unknown
CBS Evening News anchor
Incumbent