Kent Davison

Senior Adviser to Congressman Jonah Ryan
In office
2017 – 2018
Senior Adviser to the President
In office
November 4, 2014 – January 20, 2017
President
Stuart Hughes (2014–16)
Selina Meyer (2016–17)
Personal details
Children
1
Alma mater
Massachusetts Institute of Technology
"
I just crunched the numbers, and right now, they taste pretty bland to me.
"

– Kent Davison
Kent Davison is the former senior strategist to both Presidents Stuart Hughes and Selina Meyer. He unsuccessfully ran Selina Meyer's 2016 presidential campaign and served as a senior adviser to Congressman and later Vice President Jonah Ryan.
Background
[
]
Personal
[
]
He holds an undergraduate and two graduate degrees from MIT in mathematics and musicology. When only 29 years old, he was named to Statistics magazine's annual "30 under 30" list.
In Kissing Your Sister, it is revealed that Kent is a motorcycle enthusiast who rides with a predominantly Latino biker gang.
Professional
[
]
Davison has had a distinguished career in public service beginning with a job as a measurer at the Bureau of Weights and Measures. His other key posts include working as an irregularities analyst for the US Postal Service Office of Investigations, a statistics manager for the Seattle Seahawks, and a senior strategist for President Stuart Hughes.
Career in politics
[
]
Senior strategist to Stuart Hughes (2012

–

2016)

[

]
Davison served in a senior position in Michigan Governor Stuart Hughes' 2012 presidential campaign. During the general election, Hughes' running mate Selina Meyer became bitter with Davison for forcing Meyer to appear more familial with her ex-husband Andrew, including orchestrating a trip going river rafting, where Meyer had to hear "Andrew banging that skank on the riverbank".
On the night of Hughes and Meyer's electoral victory, Meyer was angry putting Andrew on stage because it was her night, according to Meyer.
For whatever reason, Davison did not serve in the Hughes administration until the night of the 2014 midterm elections, wherein Davison returned as Hughes' senior strategist. The news of Davison's return distressed Vice President Meyer, who had not forgiven Davison for his actions on the campaign. Meyer and Davison continued to clash. In January 2015, after Davison prevented Meyer's team from performing a comedic song about House Speaker Jim Marwood at a benefit dinner, Meyer instead performed a song making fun of Davison.
Selina Meyer's 2016 presidential campaign
[
]
Meyer and Davison's relationship softened after she announced her 2016 presidential campaign, following the news that Hughes would not seek re-election. Davison volunteered himself to the campaign, hardly being of any use within the lame-duck Hughes administration.
Throughout 2015, Davison appeared to have an interest in Meyer's personal secretary Sue Wilson. Their co-workers believed this was their bizarre attempt at flirting. Their relationship deteriorated after Davison forced Wilson to cancel a hard-won appointment with Prince Charles, though they continue to be courteous to one another.
Davison was the one who broke the news to Selina Meyer in January 2016 that Hughes would be resigning and that she would become the 45th president of the United States. Davison continued to serve as senior strategist in Meyer's administration. In February 2016, Davison was tasked with making First Daughter Catherine Meyer appear more likable.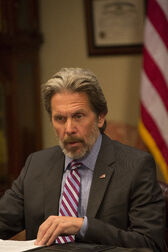 Following the resignation of Meyer's campaign manger Amy Brookheimer at the 2016 National Convention, Davison was awarded the position due to the fact that he was the most competent person in the room when Tom James asked who was replacing Brookheimer.
The 2016 presidential election ended with a tie in the Electoral College. Meyer expressed bitterness towards Davison, claiming he was the reason she lost the election. After the election, it appeared that the state of Nevada could be in play. Through his data-wizardry, Davison was able to state that there was evidence of missing ballots somewhere in Nevada. It turned out that a disgruntled postal worker had hoarded ballots in Washoe County in an effort to stop Meyer's chances of winning the state. Through a recount, the ballots ended up skewing heavily towards Meyer's opponent Bill O'Brien. Davison admitted he hadn't considered that the ballots were military absentees.
Senior adviser to Jonah Ryan (2017

–

2018)

[

]
Meyer lost the contingent election in the House of Representatives and left office on January 20, 2017. After former Meyer staffer Jonah Ryan was elected to Congress, Davison joined him as his senior adviser. Minority Leader Roger Furlong stated that cleaning bukkake parties in a Japanese porn shoot would be a more respectable position than working for Ryan. In January 2018, Davison was accompanied on Ryan's staff by former White House Chief of Staff Ben Cafferty.
Davison and Cafferty put up with Ryan's antics and continued to try to enhance Ryan's image; nearly all of their attempts proved to be unsuccessful. Following Ryan's entanglement with Shawnee Tanz, daughter of private-prison magnate Sherman Tanz, Davison and Cafferty's influence on Ryan was sidelined.
In June 2018, Ryan formed a congressional coalition known as the Jeffersons. Ryan's incompetence appeared to hit a peak in July 2018 when the Jeffersons vetoed a bill to raise the debt ceiling, plunging the U.S. government into a shutdown. Cafferty left the position in August. Davison was fired in October after appearing to be a more acute basketball player than Ryan.
BKD (2018

–

2019)

[

]
In late 2018, Davison, Cafferty, and former Meyer staffer Dan Egan formed BKD, a consulting firm. One of the firm's major clients was former Minnesota Governor Danny Chung, who seemed to express an interest in running for president in the 2020 presidential election. The firm was dismantled in 2019 after they all joined Selina Meyer's 2020 presidential campaign.
Selina Meyer's 2020 presidential campaign
[
]
Meyer's 2020 presidential campaign was marked with the return of many of Meyer's previous staffers, including Davison, Cafferty, Egan, and Amy Brookheimer. By spring of 2020, only Davison and Cafferty would remain on the staff. Cafferty and Davison would avoid wanting to know any information about possible Chinese interference in the upcoming presidential election.
At the 2020 National Convention, upon discovering that Jonah Ryan would be joining Meyer's ticket as vice president, Davison resigned and left politics.
Later life
[
]
Following his departure from politics in 2020, Davison raised a daughter who is currently a NASA employee. Davison has adopted watchmaking as a hobby.
Trivia
[
]
In Mother, it is revealed that Kent used to own a cat named Fibonacci, who died.
Kent appears to be fluent in sign language. In Qatar, he signs with his date, Julie, at Furlong's paella dinner.
Kent has been (intentionally) fired three times before in his life; by the US Postal Service Office of Investigations, by the Seattle Seahawks, and by Jonah Ryan (A Woman First).
Kent is familiar with the logistics of a devil's threesome (Male, Male, Female) (Discovery Weekend)
Quotes
[
]
"All I do is provide POTUS with the polls.  Cold Numbers."
"Details are important. A misplaced decimal point can kill a diabetic."
"Doing nothing is doing something, it's doing nothing."
"You said on-air that Bruce Hornsby was a member of the Grateful Dead. He was a touring member from '90 to '92. He never officially joined." S6
Gallery
[
]