Gary Walsh

Personal Assistant to Selina Meyer
In office
2002 – 2020
Personal details
Born
Gary Anton Walsh
August 1978
Mother
Imogene
Father
Judge
Alma mater
Cornell University
Criminal information
Conviction(s)
Financial improprieties at The Meyer Fund
Apprehended
July 26, 2020
Criminal status
Released from prison
"
What you see is the swan, what I'm carrying is her two big, very busy webbed legs and feet.
"

– Walsh
Gary Anton Walsh (born August 1978) is an American political aide who served as the special assistant and personal aide, commonly referred to as body man, to President Selina Meyer for two decades. Walsh was one of Meyer's closest confidants, having worked for Meyer from the time she was a congresswoman to her fourth presidential campaign. 
Walsh was arrested in July 2020 for overseeing financial improprieties at the Meyer Fund. He served years in prison despite not being responsible for any of the crimes he was convicted of. 
Walsh was born in Birmingham, Alabama, in August 1978. In Nev-AD-a, Walsh tells Charlie Baird that he is an only child. This is contradictory, however, as in B/ill, it is revealed that Walsh has a nephew, and Walsh mentions he has a brother named Shawn in a deleted scene in the episode Andrew. In Judge, Walsh's father accuses him of killing his twin brother in utero.
According to Walsh, he as always had a good relationship with his mother, Imogene. His father, Judge Walsh, has always been disappointed in him and wanted a "man's man" for a son.
In Frozen Yoghurt, Meyer mentions that Walsh studied "science" at the University of Virginia. In Thanksgiving, Walsh claims he has a bachelor's degree in hotel management from Cornell University.
Walsh has been by Meyer's side for decades, having met Meyer when he was 15, working as a candy striper at a hospital the day Catherine Meyer was born in 1994. Walsh was by Meyer's side during her time in Congress and in the Senate from 1999 to 2013. In South Carolina, Walsh claims to have been in the same position for 18 years, meaning he was promoted to bagman in 2002.
When Selina Meyer became vice president in 2013, Walsh continued to be one of Meyer's closest staffers. Throughout Meyer's term as vice president, Walsh would brag to his colleagues of his close relationship to the vice president. In September 2013, Walsh took a "sneeze bullet" for the VP after one of Senator Andrew Doyle's staffers appeared to be close to sneezing on Meyer. Consequently, Walsh later got sick from this and comically fell behind in his duties.
Walsh is shown to be extremely competent at his job, always anticipating the VP's needs showing that he knows her better than she knows herself and he is also good at providing small talk prompts. Though the things he does for Meyer may seem trivial, he knows exactly what Meyer needs to cheer her up - usually through his snack choices.
In November 2013, Meyer believed she might be pregnant, and Chief of Staff Amy Brookheimer had Walsh buy pregnancy tests for the vice president. At a pharmacy, Walsh accidentally left his VP badge out in the open, leading to the public questioning whether or not Meyer is pregnant. Meyer had suffered a miscarriage. Walsh, devastated by the negative press he caused the vice president, offered his resignation to Meyer, who refused because he was the only competent member of her team.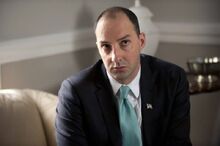 In 2014, Walsh had a girlfriend, Dana, who increasingly got between him and Meyer. When Meyer revealed she won't run with Hughes for re-election in 2016, Dana wanted Walsh to join her at her cheese business. When Meyer announced she actually does want to run for president, Dana is bitter with both Walsh and Meyer, as Walsh stays on the Meyer team for her presidential campaign. In The Choice, it is revealed that Walsh and Dana are still together, though she was never mentioned after that point, indicating it's likely they broke up.
For a brief period in 2015, Walsh began having intense pains in his shoulder, stemming from holding the "Leviathan" all day, every day for years.
In January 2016, Walsh was the first person to find out that Meyer will become president (except for Kent Davison, who delivered the news to Meyer) and immediately broke down into tears. In addition to this, his nose started bleeding, and he and Meyer broke down laughing on the bathroom floor. Walsh was devastated that Meyer requested Walsh stay behind in New Hampshire while she flies up to D.C. to become president.
As Meyer became president, Walsh had a difficult time adapting to the amount of staffers surrounding Meyer on a daily basis. On February 25, 2016, Walsh was put in charge of organizing the state dinner with Israeli Prime Minister Ben-Haim. Walsh went over budget and was also responsible for removing a a Native American painting that drew controversy from the press. That night, Meyer confronted Walsh, who insisted that she is nothing without him.
In October 2016, Walsh was involved in hiring Amy Brookheimer and Dan Egan to illegally lobby votes to kill Meyer's Families First Bill because the bill's unpopularity would make Meyer's re-election bid more difficult. After a mix-up, Congressman Moyes saw what the Meyer administration was doing and demanded an investigation. Walsh testified before congress and scapegoated Bill Ericsson.
After Meyer's apparent loss following the tied 2016 presidential election, Walsh had a breakdown where he lambasted Meyer's senior staff for not doing enough to secure her victory.
Post White House activities

[

edit

|

edit source

]
Selina Meyer left office on January 20, 2017. In the months following her loss, she would be institutionalized at the Whispering Sands Wellness Center in Sedona, Arizona. Walsh would be acting as a "nurse" for Meyer, adoring her in her drugged-up state.
Meyer located to New York later that year. Walsh lived in Hoboken, New Jersey, and woke up at four in the morning in order to tend to Meyer's duties on a daily basis. During this time, Meyer operated the Meyer Fund.
On March 6, 2018, Walsh suffered a heart attack at a hotel in Washington D.C. The heart attack was caused by discovering that Meyer had a heart attack herself. Meyer allowed Walsh to stay with her at her daughter's brownstone until he got better.
During his hospitalization, Walsh guilt-tripped Meyer into coming to his 40th birthday party in White City, Alabama later that August. During the trip, Meyer used Walsh's birthday party as an opportunity to secure southern donors for her presidential library. Meyer stole a personal story of Walsh's and read it aloud as if it were her own. Afterwards, Walsh expressed mild anger towards Meyer for stealing his personal story.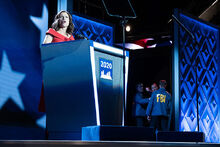 Behind closed doors, Meyer expressed interest in launching a 2020 presidential campaign. Meyer's campaign finally launched following the outpouring of support that Meyer was the one who freed Tibet and not Laura Montez. In February 2020, Walsh was put in charge of the campaign's faith-based outreach program during Meyer's South Carolina campaign.
During Meyer's campaign, the U.S. Attorney's office in New York announced they were investigating financial improprieties relating to The Meyer Fund. Andrew Meyer's apparent death on March 1, 2020, shut down the investigation, but calls from Kemi Talbot the 2020 National Convention seemed to reopen the investigation. Meyer, having just clinched the nomination and with the presidency within reaching distance, offered Walsh as a scapegoat. On July 26, 2020, as Meyer delivered her acceptance speech at the convention, Walsh was arrested by the FBI and sent to prison. Throughout Meyer's only full term as president, she did not visit Walsh in prison, despite possibly expressing remorse for her actions toward Walsh.
In 2045, Walsh attended Meyer's funeral, finally bringing her the lipstick she wanted at the convention.
Community content is available under
CC-BY-SA
unless otherwise noted.