The first inauguration of Selina Meyer as the 45th President of the United States was held in a White House state room on January 24, 2016, following the resignation of President Stuart Hughes. The inauguration marked the commencement of Meyer's first term in office (which lasted about a year).
Resignation of Stuart Hughes
Edit
In January 2016, months after announcing he would not run for re-election, Hughes resigned to take care of his sick wife, who had attempted suicide one month earlier. Sitting Vice President Selina Meyer was in New Hampshire at the time, campaigning for the New Hampshire primary, which she would lose days later. Upon finding out that Hughes would resign, Meyer was flown back to D.C.
Two Inaugurations
Edit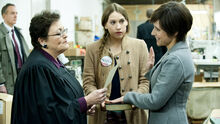 Meyer was inaugurated at noon on the day Hughes resigned, in a White House state room. However, during her swearing-in, Meyer accidentally said "preser... protect, and defend the Constitution of the United States," interrupted by Mike McLintock knocking over a lamp. The next day, while campaigning at a factory in New Hampshire, she re-did her oath correctly.
Aftermath
Edit
The day after her oath re-do, Meyer lost the New Hampshire primary. One day later, the administration officially moved to the West Wing. Meyer, who was campaigning for President, would end up losing the 2016 presidential election.
Veep has never revealed the specific date that Selina became President. However, there were hints left across the series that can help us infer the date, such as:
Dan saying in Crate that it's January.
The footage of Selina's mother in Kissing Your Sister taking a tour of the west wing was dated January 28, 2016. Selina still has her short hair, so it is right around when she was sworn in.
Richard saying in Library that Selina was in office for less than a year, meaning she was sworn in after January 20th.
If you take all these into consideration, Selina was sworn in between January 21 and 24, 2016. It would make the most sense that Selina was sworn in on the 24th because that would mean the New Hampshire primary, occurring two days later, would be on Tuesday, January 26th. The New Hampshire primary has always historically been held on a Tuesday.
Community content is available under
CC-BY-SA
unless otherwise noted.