Danny Chung

Governor of Minnesota
Incumbent
Assumed office
January 2011
Personal details
Spouse
Wife
Military Service
Allegiance
United States
Battles/wars
Iraq War
Awards
Purple Heart
Danny Chung is an American politician who has served as governor of Minnesota since 2011. He was considered a rising star within the party in the early 2010s, to the point where Vice President Selina Meyer feared that President Stuart Hughes would replace her on the ticket with Chung due to his charisma, youth, and military experience.
Chung ran for president in the 2016 presidential primaries. He came in second to Meyer, who had assumed the presidency in the middle of the primaries.
Chung is married. He refers to his wife as his "second Bible".
In a silent cameo in Kissing Your Sister, Chung can be seen alongside Richard Splett in old footage of his Gilbert and Sullivan society show.
Chung is very popular within the party and is seen as a rising star due to his youth, charisma and war record. He previously spoke at the 2012 National Convention, where the positive reaction to his speech was dubbed "Chung-mania".
Before entering politics, Chung served in the United States military during the Iraq War. During a combat operation, he saved a colleague from death by dragging him from a burning tank. Chung would receive a Purple Heart for his actions. In Groundbreaking, it was hinted that Chung may be lying about the tank story.
There were rumors that Chung tortured enemy combatants. These rumors were ultimately proven false.
Chung was elected governor of Minnesota in November 2010 and became governor in January 2011.
Chung published The Good Fight in October 2013. During a publication event, Chung implied to Vice President Selina Meyer's deputy director of communications Dan Egan that he might run for president sometime in the future. Meyer overreacted to the news and ordered her staff to research his background. One of her staffers erroneously informed Meyer that Chung was not born win the United States, which Meyer subsequently let slip out during an appearance on Meet the Press. Chung used the misconception to his advantage, publicly humiliating Meyer's staff for their poor research work and reconfirming his eligibility to run for president. He ended his press conference with a memorable sound byte that he may have a "purple heart" but the one that beats inside of him bleeds "red, white, and blue".
Chung played golf with President Stuart Hughes in December 2013, leading Meyer to fear that Hughes would be replacing her on the 2016 ticket with Chung. According to Andrew Doyle years later, Hughes was likely going to replace Meyer on the ticket if he ran for re-election.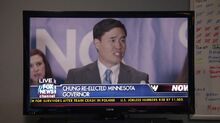 Meyer campaigned for Chung during his re-election campaign in the 2014 midterm elections. Chung was re-elected and brought up his military service again during his victory speech.
Chung appeared at a dinner held by the Vic Allen Foundation in January 2015. He performed a beatbox rap about his home state of Minnesota. He appeared to be the hit of the dinner until Meyer's 50 Ways to Win in Denver song.
Chung was an outspoken critic of the 2015 government shutdown, where he criticized Washington lawmakers for failing to make a deal to prevent the shutdown. After a man was killed by a bear at a Minnesota national park during the shutdown, Chung consoled the man's widow.
2016 presidential campaign
[
edit
|
edit source
]
Main article: Danny Chung 2016 presidential campaign
In April 2015, Chung announced he would be opening an exploratory committee to see if there were any options for him to run in the 2016 presidential election, being one of the key party figures to turn on Hughes, along with Furlong and Doyle. This was notable as Hughes' hadn't even announced he wouldn't be running for re-election. Chung officially announced his candidacy later that year.
After Meyer was confronted in Silicon Valley for flip-flopping on fracking, Chung was the first to criticize her, saying "Even Selina Meyer supporters aren't supporting her." In retaliation, Dan Egan used Jonah Ryan to publicize rumors that Chung tortured from his time serving in the war, rumors that were ultimately proven false.
At the first primary debate in December 2015, Chung came in third place. Chung lost the Iowa caucus to Joe Thornhill but won the New Hampshire primary--even after Meyer became president. After candidates George Maddox and Owen Pierce dropped out, they both endorsed Chung.
During the subsequent primaries, Chung came in second place, losing the nomination ultimately to Meyer. At the 2016 National Convention, Chung was Meyer's first choice for vice president when Andrew Doyle expressed his desire not to be nominated as VP. Chung declined the offer, claiming he doesn't like the way she governs.
Since Minnesota has no restrictions on term limits, it's unknown whether or not Chung ran for a third term in the 2018 midterm elections.
In January 2019, Chung met with BKD--a consulting firm founded by Dan Egan, Kent Davison, and Ben Cafferty, about a possible run in the 2020 presidential election. Chung ultimately didn't run.
Party political offices
Preceded by
Unknown
Party nominee for Governor of Minnesota
2010, 2014
Most recent
Political offices
Preceded by
Unknown
Governor of Minnesota
2011–present
Incumbent
Community content is available under
CC-BY-SA
unless otherwise noted.