Dan Egan

Senior Adviser to the President
In office
November 2016 – January 20, 2017
President
Selina Meyer
In office
January 24, 2016 – March 28, 2016
President
Selina Meyer
Vice President's Deputy Director of Communications
In office
September 2013 – January 24, 2016
Vice President
Selina Meyer
Personal details
Alma mater
Hampden-Sydney College
Occupation
Political aide, talk show host, real estate agent
Notable credit(s)
CBS This Morning
"
Without wishing to sound boastful, I'm the Vice President's secret weapon.
"

– Dan
Daniel Clifford Egan is a real estate agent, political staffer, and TV personality who briefly hosted CBS This Morning in 2018. Prior to this, he was a senior adviser to Selina Meyer and Meyer's Deputy Director of Communications when she served as vice president. He also briefly ran Meyer's 2016 presidential campaign and served as Deputy Communications Director for Meyer's 2020 presidential campaign.
Egan is from upstate New York.[1] His mother is catholic.[2] He described his father as weird and distant.[3] He also has a brother whose fiancé Egan had sex with.[4]
Egan was once dared by neighborhood children to kill a stray dog, and he did.[5] While he attended college at Hampden-Sydney College, all the girls liked him, except one.
Egan had a brief relationship with Amy Brookheimer. According to Brookheimer, the relationship lasted for a week.[6]
Prior to working for Barbara Hallowes, Egan was employed by Ohio Congresswoman Hayes.[7]
Vice president's

Deputy Director of Communications (2013–2015)

[

edit

|

edit source

]
Egan was briefly the Director of Communications for Nevada Senator Barbara Hallowes. In 2013, Egan met Vice President Selina Meyer. After Meyer made an inappropriate joke, Egan leaked a story about Hallowes to overshadow Meyer's news. Meyer, impressed, hired him and made him Deputy Director of Communications.
During Egan's first year working for Meyer, he would be at odds with Brookheimer, Communications Director Mike McLintock, and the vice president's personal aide Gary Walsh. Egan once managed to effectively replace Walsh, only to be shooed away by Meyer.
After President Stuart Hughes demanded that Meyer's key piece of legislation, the Clean Jobs Bill, be removed from the schedule to accommodate Hughes' Fiscal Responsibility Bill, Egan was involved in transporting the meat of the Clean Jobs Bill to the Macauley Amendment, going against the president's back. Meyer ultimately voted not to betray Hughes. In December 2013, congressman Roger Furlong announced he would be looking into Egan's actions regarding the Macauley Amendment. However, the party lost their congressional majority in the 2014 midterm elections, meaning Furlong lost his chairman position on the House Ethics Committee, unable to investigate the office of the VP.
Meyer announced her 2016 presidential campaign in October 2015. Following this, Egan competed with Amy Brookheimer for the position of campaign manager. Unbeknownst to them both, Meyer actually was considering Bill Ericsson. After Ericsson declined Meyer's offer in exchange for a top position working for Joe Thornhill, Meyer offered Egan the position.
Selina Meyer's 2016 presidential campaign
[
edit
|
edit source
]
Elated with the news that he is her campaign manager, Egan revealed in a private meeting with Meyer that he once killed a dog to impress some older boys and also has a penchant for older women. Meyer seemed disturbed be these revelations.
One of Egan's first acts as campaign manager was hiring Ray Whelans to be Meyer's personal trainer and lover, relaxing Meyer. In December 2015, Egan suffered a nervous breakdown after Jonah Ryan leaked the online beliefs of Whelans, including a history of fat shaming. Whelan's influence over Meyer prompted scrutiny from the press. After Meyer discovered from Gary Walsh that Egan hired Whelans as a "sex slave", Meyer fired Egan from his position and instead promoted Brookheimer.
Lobbying & return to the West Wing

[

edit

|

edit source

]
Egan returned to work for Meyer weeks after his nervous breakdown, just in time for the primary elections. On January 24, 2016, Meyer ascended to the presidency after the resignation of Stuart Hughes. Egan continued to work for Meyer. After an unknown campaign official used child mortality data to send a campaign mailer to bereaved parents, the Meyer administration found itself under enormous scrutiny in what was deemed the Medileaks scandal. Leigh Patterson was scapegoated. However, Patterson's menial position within the administration did not satisfy critics. On March 28, 2016, Egan was fired from the administration.
In May 2016, Egan began working for Sidney Purcell at Purcell's lobbying firm, using his connections to the Meyer administration. Amy Brookheimer joined him after resigning during the 2016 National Convention that summer. Egan and Brookheimer would both act as TV personalities during this time, appearing on CNN's election night panel. On November 9, 2016, Egan was fired from Purcell's office in favor of more people with connections to Bill O'Brien.
Following the tied presidential election, Brookheimer returned to work in the Meyer administration. Brookheimer requested that Egan join her to help represent Meyer during the Nevada recount. Meyer's recount efforts backfired as O'Brien continued to hold a lead in the state when the votes were cast. Egan returned to the White House to temporarily work as a personal aide for Tom James. Egan accurately suspected that James was up to something suspicious.
In December 2016, Egan joined Jonah Ryan's congressional campaign. Despite the friction between the two, Egan briefly sympathized with Ryan after they both received verbal attacks from Meyer. Egan's efforts to get Ryan elected to congress were successful.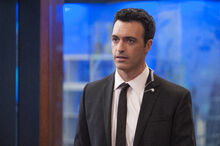 After Selina Meyer lost both the House and Senate votes in Congress to decide the presidency, Egan appeared on CNN again, acting as a political commentator for Laura Montez's inauguration. He was offered a position at CBS News that day.
Egan worked as a daytime personality on CBS This Morning starting in late 2017. On January 3, 2018, Egan interviewed Meyer in her first post-election interview. Egan's partnership with news veteran Jane McCabe was met with acclaim from audiences. Rumors spread that McCabe and Egan were sleeping together. Egan discovered that McCabe intentionally started these rumors so she won't be considered "grandma" and replaced with a younger anchor. In June 2018, Egan launched a sexual harassment complaint against McCabe. Days later, she announced she would not be hosting CBS This Morning any more, being replaced by the younger Brie Ramachandran.
Egan and Ramachandran began a sexual relationship. Despite this, the audience felt that their relationship was staged. In August 2018, Egan tried to convince congressman Jonah Ryan into an interview. Ryan agreed to do an interview but only with Jane McCabe. Months later, Egan was fired, with McCabe replacing him.
In October 2018, Egan engaged in a brief sexual fling with Amy Brookheimer. She later revealed she was pregnant. With Egan expressing no interest in being a father, Brookheimer had an abortion in May 2019.
In late 2018, Ben, Kent, and Dan Egan formed BKD, a consulting firm. The firm was dismantled in 2019 as they all went on to join Selina Meyer's 2020 presidential campaign.
Selina Meyer's 2020 presidential campaign
[
edit
|
edit source
]
In January 2019, following the cancellation of her proposed library, Meyer announced that she would be running for president for a fourth consecutive presidential run. The announcement coincided with the positive press coverage leaking from the revelation she had negotiated the independence of Tibet. Egan was hired as Deputy Communications Director for the campaign.
During the campaign, Egan maintained a positive relationship with Meyer, who appeared to admire Egan while belittling Amy Brookheimer. On the night of Meyer's victory in the South Carolina primary, Meyer and Egan slept together. The next day, Meyer had Egan fired.
Chief of Staff to Richard Splett (2020)
[
edit
|
edit source
]
Days after being fired, Egan became Mayor Richard Splett's Chief of Staff. Egan and Splett meet with Sidney Purcell, working as a lobbyist in Iowa, who offered Richard an open seat in the Iowa State Senate if he supported the the company Purcell is lobbying for. Splett declined, and accidentally exposed an elaborate scandal orchestrated by Purcell, who was arrested along with the Lieutenant Governor. Splett was then appointed to be Lieutenant Governor.
In April 2020, after the incapacitation of Governor George Ballentine, Splett became Governor of Iowa.
Splett delivered the keynote address at the 2020 National Convention in July 2020. While there, in exchange for Splett becoming Secretary of Agriculture, Meyer insisted that Egan be fired.
After being fired from Splett, Egan became a real estate agent and married a much younger wife. He attended the funeral of Selina Meyer in 2045 where he reconnected with Amy Brookheimer, now married to Bill Ericsson.
Community content is available under
CC-BY-SA
unless otherwise noted.