Catherine Selina Meyer
(born 1994) is the only child of
Selina Meyer
, the 45th and 47th
president of the United States
and businessman
Andrew Meyer
.
Her son, Richard Meyer-Palmiotti, was born in January 2019.
Early life
Edit
Catherine was born to Selina and Andrew Meyer in 1994. Gary Walsh claims that her birthday is June 9th, but this conflicts with the fact that her 21st birthday was celebrated in February 2015. Catherine began seeing a therapist at the age of 13.
Catherine graduated from Vassar college in 2013.
Life in the public eye
Edit
Second daughter of the United States
Edit
Selina Meyer became the vice president on January 20, 2013. At the inauguration, Catherine was holding the bible that her mother was sworn in on. However, the weather was so cold that Catherine was shaking uncontrollably.
In September 2013, Catherine attended her mother's celebration of twenty years in politics.
In November 2014, Catherine published a paper regarding the 2011 film 5 Broken Cameras. Catherine's paper accused Israel of brutal repression against Palestinian settlers. Catherine's mother demanded that she apologize, and her mother discovered that Catherine was dating an Iranian student named Rahim.
Catherine's parents invited her to Washington, D.C., to celebrate her 21st birthday in February 2015. Catherine was frustrated when Meyer brought Majority Leader Mary King to the party to negotiate a budget deal to prevent a government shutdown. To make up for this, Meyer invited Catherine out to dinner the next night with Andrew.
In March 2015, Catherine and the Meyer family taped an episode of First Response with Janet Ryland at the vice president's residence. When the family was in the kitchen cooking dinner together under the scrutiny of Janet Ryland, Gary Walsh alerted Meyer to the fact that Catherine is a vegetarian and had told Meyer three months ago. This was a problem as they were cooking a chicken dish.
Catherine joined her mother on the campaign trail when Meyer announced her 2016 presidential campaign. At the campaign announcement on October 18, 2015, Catherine accidentally wore the same outfit as Meyer and was forced to wear something else.
At an event in Detroit in November 2015, Catherine punched a protestor who attacked her mother. Despite the positive press, Catherine was horrified, stating that she hates violence.
First daughter of the United States
Edit
Catherine held the bible when Meyer was sworn in as president of the United States on January 24, 2016.
In May 2016, Catherine became engaged to Jason, who was a lobbyist and in his mid-30s, much to Meyer's displeasure. Catherine spoke at the 2016 National Convention, where she and Jason kissed on stage. Catherine was forced to break up with him after their relationship and his status as a lobbyist came into question during an October 2016 congressional hearing.
Following the tied 2016 presidential election. Catherine began filming her mother at work for her thesis film in order to complete film school, using the electoral tie as the subject. Catherine interviewed many of Meyer's senior aides for the film and even documented Jonah Ryan's 2016 congressional campaign. The footage was eventually compiled into the 2017 film Kissing Your Sister. In January 2017, the footage from the film was mysteriously deleted. It was implied that Catherine's mother was responsible for this, fearing blowback from how exposing the film was.
In November 2016, Catherine developed a relationship with Secret Service agent Marjorie Palmiotti, who was hired as her mother's body double. On December 12, Catherine revealed to her mother that she was a lesbian and that Palmiotti would be quitting her job. For Christmas, Palmiotti took Catherine to her parents and only introduced them as friends. They had a fight and Catherine believed they broke up. On January 3, 2017, just as news broke that Selina would not be President, Catherine and Palmiotti reconciled.
On November 18, 2016, Catherine's grandmother Catherine Calvert Eaton died. As Eaton had a poor relationship with her daughter, Eaton's entire estate was left to Catherine.
Post-White House years
Edit
Selina Meyer was briefly institutionalized at the Whispering Sands Wellness Center in Sedona, Arizona. In spring 2017, Catherine and Palmiotti invited to Meyer to live with them in their newly purchased New York brownstone. Due to her significant inheritance from her grandmother, Catherine became responsible for keeping Meyer afloat financially, giving Meyer regular allowances.
In January 2018, Meyer expressed her interest in running for president again. Catherine broke down and cried in horror at the news. After a talk with former Chief of Staff Ben Cafferty, Meyer decided against this.
In February 2018, Catherine and Palmiotti expressed interest in having a child. They approached Meyer's Chief of Staff Richard Splett to be a sperm donor. Catherine was inseminated in April 2018 and discovered she was pregnant that June. Meyer discovered while in Qatar that Catherine was pregnant and seemed somewhat horrified by the fact that she would be a grandmother. Despite wanting to keep the sex of the baby a secret, Kent Davison could tell just by looking at Catherine that the baby would be a boy. Catherine gave birth in January 2019. Her mother named the child Little Richard without Catherine or Marjorie's permission.
When Meyer announced her 2020 presidential campaign, Catherine accompanied her on the campaign trail, despite seeming to favor Kemi Talbot's candidacy instead. During a May 2019 campaign debate, Meyer snapped at Catherine and came up with her successful campaign slogan "Man Up!".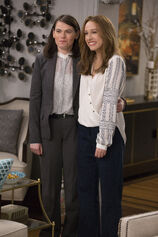 On March 1, 2020, Catherine discovered that her father, Andrew Meyer, had died early that morning while trying to flee the country in her grandmother's boat, the Labor Day. Catherine appeared devastated by the news. It was later discovered that Andrew had faked his death, though Catherine probably would never have found this out.
Palmiotti and Catherine became engaged in March 2020. Despite planning for a wedding months in the future, Meyer had convinced Catherine and Palmiotti to get married while in Oslo for the Nobel Peace Summit. Catherine discovered that Meyer only did this so their wedding could act as a diversion while escaping from the Norwegian National Police. Catherine decided to still go through with the wedding. Catherine and Palmiotti were officially wed on April 15, 2020.
During the 2020 National Convention, Meyer had made a deal with conservative Nevada Governor Buddy Calhoun to outlaw gay marriage in exchange for his delegates. Catherine and Palmiotti were horrified by this. Catherine disowned her mother before she accepted the party nomination that night.
Meyer won re-election in the 2020 presidential election. Meyer's full term in office saw her fulfill her promise to Calhoun and outlawed same-sex marriage, making Catherine and Palmiotti's marriage illegitimate.
Meyer and Catherine never reconciled after Meyer left office in 2025.
In 2045, Catherine drank margaritas, in apparent celebratory mood, while watching television coverage of Meyer's funeral with Palmiotti and Little Richard.
References
Edit
↑

Same-sex marriage illegitimate as of the 2020s.
Community content is available under
CC-BY-SA
unless otherwise noted.