"
We all know the White House would work so much better if there wasn't a president, but there is, so we work around that.
"

– Cafferty
Benjamin Cafferty (born May 24, 1956) served as the White House Chief of Staff from 2013 to 2017, serving under Stuart Hughes and Selina Meyer. He also acted as campaign manager to Meyer's 2020 presidential campaign, and briefly served as chief of staff to Jonah Ryan for a brief time during Ryan's congressional tenure.
Cafferty is a graduate of Rutgers University, meaning he possibly grew up near/around New Jersey.
Cafferty has had at least four heart attacks. His third heart attack occurred in 2010, where he met his fourth wife Joyce. Despite having a family, Cafferty doesn't appear to be close with them, including insisting that Meyer doesn't call them regarding his heart attack in the series finale.
Prior to working for President Hughes, Cafferty ran an international political consultant group called Cafferty Associates. Among his clients were Georgian President Murman Shalikashvili.
Cafferty had a relationship with Hughes before Hughes was elected president, and played an active role in Hughes' 2012 presidential campaign alongside Kent Davison.
White House Chief of Staff (2013–2017)
[
edit
|
edit source
]
On the night of the 2014 midterm elections, Cafferty became worried that Hughes would fire him for the party's disastrous performance nationwide. However, Hughes asked Cafferty to stay on. 
Cafferty maintained a warm relationship with Vice President Selina Meyer, in direct contrast to Meyer's icy relationship with Davison. 
The pressure on the Hughes administration intensified in 2015 following the revelation that one of the hostages in the Uzbek hostage crisis was an American spy and the subsequent government shutdown used to sway attention from the spy scandal. Cafferty seemed somewhat relieved when Hughes announced he wouldn't be seeking re-election. 
Cafferty became one of Meyer's closest aides when she announced her 2016 presidential campaign. During her book tour in Iowa, Cafferty advised Meyer to hire Bill Ericsson. Meyer offered the position to Ericsson in November 2015, but he turned her down in favor of working for primary candidate Joe Thornhill. 
When Edna Hughes, the first lady of the United States, attempted suicide in December 2015, Cafferty was called by Hughes to help tend to the situation. Edna's mental instability prompted President Hughes to announce his resignation in January 2016. Meyer persuaded Cafferty to stay on in the same position as Chief of Staff. 
In March 2016, Cafferty volunteered to be scapegoated for the Medileaks scandal. However, Dan Egan was fired instead. 
One of Meyer's most noteworthy achievements was the drafting of the Families First Bill. However, the bill was unpopular with the general populace. Meyer's closest aides realized they needed the bill to fail in order to have a chance of winning the upcoming presidential election. In October 2016, Cafferty sent staffers Jonah Ryan and Richard Splett to lobby in favor of the bill, knowing that their incompetence would inspire congresspeople to vote against the bill. Unbeknownst to Cafferty, Gary Walsh had recruited Amy Brookheimer and Dan Egan to lobby against the bill, using the same set of data. This roused the suspicion of Congressman Moyes, who called for a congressional hearing into the Meyer administration's actions leading up to the Families First vote. During the series of congressional hearing, Cafferty was accused of not appearing disappointed that the bill failed to pass. 
Following Meyer's loss in the 2016 presidential election, Cafferty and Davison interviewed for a position at the same firm.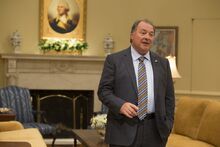 Strategy officer and director of governmental affairs for Uber (2017–2018)
[
edit
|
edit source
]
During the Laura Montez presidency, Cafferty became employed as a strategy officer and director of governmental affairs for Uber. His brash style and insensitive humor causes hostility with his younger colleagues, leading to his dismissal.
Chief of Staff to Jonah Ryan (2018)
[
edit
|
edit source
]
In January 2018, Cafferty became the Chief of Staff to New Hampshire Congressman Jonah Ryan. He was accompanied in the staff by former Meyer staffer Kent Davison. Davison and Cafferty put up with Ryan's antics and continued to try to enhance Ryan's image; nearly all of their attempts proved to be unsuccessful. Following Ryan's entanglement with Shawnee Tanz, daughter of private-prison magnate Sherman Tanz, Davison and Cafferty's influence on Ryan was sidelined.
In June 2018, Ryan formed a congressional coalition known as the Jeffersons. Ryan's incompetence appeared to hit a peak in July 2018 when the Jeffersons vetoed a bill to raise the debt ceiling, plunging the U.S. government into a shutdown. Cafferty resigned from the position in August.
In late 2018, Cafferty, Davison, and former Meyer staffer Dan Egan formed BKD, a consulting firm. One of the firm's major clients was former Minnesota Governor Danny Chung, who seemed to express an interest in running for president in the 2020 presidential election. The firm was dismantled in 2019 after they all joined Selina Meyer's 2020 presidential campaign.
Selina Meyer's 2020 presidential campaign
[
edit
|
edit source
]
Days before announcing her presidential campaign in March 2019, Meyer accidentally appointed Keith Quinn to be campaign manager. Unaware of her mistake, Meyer made Cafferty the unofficial campaign manager, with Quinn maintaining the title.
Meyer's 2020 presidential campaign was marked with the return of many of Meyer's previous staffers, including Davison, Cafferty, Egan, and Amy Brookheimer. By spring of 2020, only Davison and Cafferty would remain on the staff. Cafferty and Davison would avoid wanting to know any information about possible Chinese interference in the upcoming presidential election.
On July 25, 2020, at the 2020 National Convention in Charlotte, North Carolina, Cafferty suffered a heart attack. At the hospital, Cafferty told Meyer that she had to do the difficult things in order to achieve the presidency, including sacrificing Gary Walsh to the FBI for financial improprieties occurring at the Meyer Fund.
While in his hospital suite, Cafferty insisted he was done with politics. He was last seen happily accepting a sponge bath from his nurse. Cafferty died sometime between 2021 and 2045.
-Joyce is Cafferty's fourth wife. In Helsinki, it is revealed that Cafferty has been divorced three times. His second wife was a nurse, as is Joyce. His second marriage took place in the rain, as Cafferty said: "My second marriage took place in the rain. And you could see my nipples in all the photos."  
-Cafferty is the only member of the Hughes or Meyer staff to remain in the same position from the first day of the Hughes presidency to the last day of Meyer's first term.  
-Cafferty is the only member of Selina's original entourage to have died during Selina's lifetime.  
Political offices
Preceded by
Unknown
White House Chief of Staff
2013–2017
Succeeded by
Candi Caruso
Community content is available under
CC-BY-SA
unless otherwise noted.