"
She works frantically to avoid dealing with her weird mix of self-loathing and narcissism. I really like her.
"

– Sue
Amy Brookheimer is a political staffer who has served twice as the vice president's chief of staff, under both Vice Presidents Selina Meyer and Jonah Ryan. Brookheimer has a long history serving under Selina Meyer, having worked for Meyer from 2003 to 2019, including briefly running Meyer's 2016 presidential campaign, and running Jonah Ryan's 2020 presidential campaign before he became vice president.
Background
[
]
Personal
[
]
Brookheimer has one sister, Sophie, who has three children with two different men and who works at CVS. She has very little personal life to speak of. Sometime prior to the start of the show she and Dan Egan briefly dated.
Professional
[
]
Brookheimer attended the University of Pennsylvania from 1998 to 2002. In 2002, she was a server at "Shakey's Pizza" and joined the office of Senator Selina Meyer in 2003. Later that year, she would become Chief of Staff to the Senator.
Career in politics
[
]
Vice President's Chief of Staff (2013–2015)

[

]
After Hughes and Meyer won the 2012 presidential election, Brookheimer became the vice president's Chief of Staff in 2013. After an unsuccessful 'full disclosure' attempt and being responsible for the firing of a smiling secret service agent, Brookheimer was almost fired, but stayed on after claiming that she was the one to have a miscarriage rather than Meyer, quashing rumors that Meyer had a brief pregnancy in the fall of 2013.
Brookheimer began dating Ed Webster in February 2015. Meyer's office joked about how Brookheimer dating Webster angered Dan Egan. On their first date, Jonah Ryan approached them and joked that he's happy their relationship is "messing with Dan".
In April 2015, Meyer briefly considered the prospect of not running for re-election with Hughes in 2016. However, after Hughes announced he would not seek re-election, Meyer decided to launch her campaign for the presidency in the 2016 presidential election. Brookheimer was considered a top contender for Meyer's campaign manager. Brookheimer invited Meyer officials to her apartment to have her support in the competition with Egan for the spot. Egan was ultimately selected to be the campaign manager. In December 2015, Brookheimer was able to manipulate Egan into having a nervous breakdown in London, causing Meyer to name Brookheimer his replacement.
Selina Meyer's 2016 presidential campaign
[
]
See also: Selina Meyer 2016 presidential campaign
After becoming campaign manager, Brookheimer set her focuses on the upcoming debate and primaries. Despite coming in second place in the debate, Meyer lost the Iowa caucus to Joe Thornhill. Brookheimer continued to serve as Meyer's campaign manager as Meyer became president following Hughes' resignation on January 24, 2016. Meyer lost the New Hampshire primary despite the news coverage swirling around Meyer being the first female president.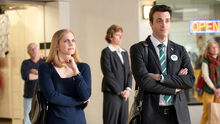 In February 2016, Meyer brought in former Thornhill campaign manager Bill Ericsson, replacing Jim Owens as Director of Communications. Ericsson's presence in the administration was bothersome to Brookheimer, who saw Ericsson as a threat.
In May 2016, Meyer brought in Karen Collins to the team. Brookheimer was consistently bothered by her presence. At the 2016 National Convention, Doyle announced he'll be leaving the ticket after Inauguration Day. Brookheimer was the first to suggest Tom James as a possible running mate, but Meyer initially decided against this, bringing in Chung and Maddox as possible contenders. With Meyer considering Owen Pierce as a running mate (on top of Karen's commentary), Brookheimer had a breakdown and quit, after thirteen consecutive years of working for Meyer. After Brookheimer's exit, Meyer brought James in and he joined the ticket.
Lobbying & return to the West Wing
[
]
Following her breakdown, Brookheimer went to work as a lobbyist in the same firm as fellow former Meyer staffer Dan Egan, working for Sidney Purcell. She and Egan worked illegally for the Meyer administration to crush Meyer's unpopular Families First Bill. Because of a mixup, Congressman Moyes discovered that Egan and Brookheimer were lobbying on behalf of the Meyer administration which results in them testifying at a congressional hearing in October 2016. Bill Ericsson was scapegoated and later sent to prison.
On the night of the election, Brookheimer was present on the CNN panel alongside Egan and Greg Hart. However, after early results seemed to imply that Meyer was losing the election, she left the CNN studio to be by Meyer's side. When Meyer cries after learning that she might possibly lose the presidency to Tom James, Brookheimer was the one who comforted her. After CNN projected that the election would end in a tie, Brookheimer called Egan to put a good word in with Greg, in case Meyer loses and she has to continue her TV work.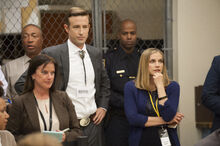 In November 2016, Brookheimer stayed on as a consultant to the Meyer administration but is reluctant to rejoin the team until she realized that Meyer wanted to hire Candi Caruso, a younger brilliant woman. Brookheimer heads up Meyer's Nevada recount initiative. She hired Egan to help her and, while there, engaged in a flirtation with him and invited him up to her room only to discover that he had already slept with her sister.
Brookheimer was successful in getting the Nevada ballots recounted only to lose the state after missing ballots favor O'Brien. Back in D.C., Brookheimer was tasked with heading up an investigation into who called Meyer the c-word, despite almost everyone seemed to have done so.
Brookheimer joined Egan as part of Jonah Ryan's impromptu congressional campaign and helped him to be elected to congress in December 2016.
In January 2017, Meyer failed to secure another term in office. Brookheimer reconnected with Buddy Calhoun, whom she met at the Nevada recount. Despite their rocky relationship during the presidential campaign, Meyer requested Brookheimer be by her side after leaving office on Inauguration Day and departing on Marine One.
Buddy Calhoun's 2018 gubernatorial campaign
[
]
In late 2017/early 2018, Buddy Calhoun announced his campaign, challenging Nevada Governor Hoyt Steptoe as he runs for re-election in the 2018 midterms. Brookheimer, engaged to Calhoun, ran his campaign, until he withdrew in February 2018. They broke off the engagement shortly afterwards.
Deputy Chief of Staff to former President Meyer (2018–2019)
[
]
After calling off her engagement, Brookheimer moved to New York to serve as Deputy Chief of Staff to former President Selina Meyer, the first time the two would work together in over a year.
The relationship between Meyer and Brookheimer grew more hostile during Brookheimer's return. Despite confiding in her after the closing of her library to run for president, Meyer showed little respect to Brookheimer and vice versa. Brookheimer briefly expressed interest in working for congressman Roger Furlong.
In October 2018, Brookheimer and Egan shared a brief fling and she became pregnant. Despite initially wanting to raise the child, Brookheimer decided to have an abortion.
When Selina Meyer announced her presidential campaign in the spring of 2019, Amy became deputy campaign manager.
During her tenure as deputy campaign manager, the relationship between Meyer and Brookheimer grew even more contentious. Brookheimer received no support from Meyer in regards to her pregnancy and was constantly at the receiving end of insults about her weight. Brookheimer left Meyer's team in May 2019 in favor of Jonah Ryan's 2020 presidential campaign, under the condition that she be made campaign manager.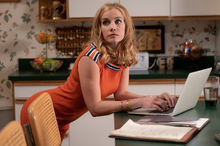 Jonah Ryan's 2020 presidential campaign (2019–2020)
[
]
In the lead up to the 2020 presidential primaries, Ryan's campaign struggled in the polls. Ryan came in sixth place in the New Hampshire primary on February 18, 2020. During the campaign in South Carolina, senior Ryan staffers Bill Ericsson and Teddy Sykes left, feeling uneasy about the new racially insensitive direction the campaign was taking. Brookheimer, however, saw a possible path to victory. Embracing the new racially charged campaign style, Ryan came in third place in the South Carolina primary.
Ryan won the Florida primary on March 3. During his campaign in Pennsylvania, Ryan contracted measles and accidentally killed his own father. Brookheimer encountered Dan Egan once more at Ryan's father's funeral. This would be the last time they would meet until 2045.
Under Brookheimer's command, Ryan was able to achieve 453 delegates, coming in third place overall. At the 2020 National Convention, Ryan's candidacy was given more legitimacy after a bombing suspect was an algebra teacher--something Ryan was vehemently opposed to (math). With Ryan's increase in influence, Meyer realized the only path to her achieving the nomination was with Ryan's delegates. On July 26, 2020, Ryan was selected to be Meyer's running mate. Both were officially nominated by the convention on the eleventh ballot that night.
Vice President's Chief of Staff (2021–???)
[
]
Brookheimer served as Ryan's Chief of Staff, as a punishment for her tone of voice towards Meyer during the convention.
Later years
[
]
At some point following the 2020 presidential election, Brookheimer married Bill Ericsson. They raised greyhounds together.
In 2045, Brookheimer attended Selina Meyer's funeral. She reconnected with fellow Meyer staffers during this time.
Gallery
[
]
Offices and distinctions
[
]
Political offices
Preceded by
Unknown
Chief of Staff to the Vice President
2013

–

2016
Succeeded by
Teddy Sykes
Preceded by
Unknown
Senior Adviser to the President
2016

–

2017
Succeeded by
Unknown
Preceded by
Eventually Teddy Sykes
Chief of Staff to the Vice President
2021

–

Ryan's impeachment
Succeeded by
Unknown