2016 United States presidential primaries

---

---

---

---
The 2016 United States presidential primaries and caucuses were a series of electoral contests taking place in all 50 states organized by the party to select the required amount of delegates to the 2016 National Convention and determine the party nominee for president of the United States in the 2016 U.S. presidential election.
Stuart Hughes, sitting president at the time, announced he would not seek re-election in 2015 due to major scandals regarding the Uzbek hostage crisis. He later resigned to take care of the ill first lady, allowing Vice President Selina Meyer to ascend to the presidency.
A total of five major candidates entered the race starting in fall 2015, including Vice President Selina Meyer, Minnesota Governor Danny Chung, former Secretary of Defense George Maddox, former baseball manager Joe Thornhill, and U.S. Representative from Nevada Owen Pierce. Meyer emerged victorious from the primaries.
In July 2016, the National Convention officially nominated Meyer for president and Connecticut Senator Tom James for vice president.  On November 8, 2016, the Electoral College ended in a tie and Meyer lost the popular vote. The presidency was awarded to opposition running mate and New Mexico Senator Laura Montez.
Candidates
Edit
Withdrew during primaries
Edit
Overview
Edit
Candidates
Most recent position
Campaign
Contests won

45th President of the United States

(2016 - 2017)

(Campaign)

Secured Nomination

???

Governor of Minnesota

(2011 - 2019)

(Campaign)

Withdrew: Spring 2016

Baseball Manager

Campaign)

Withdrew: Spring 2016

IA

United States Secretary of Defense

(2013 - 2015)

(Campaign)

Withdrew: January 25, 2016

Endorsed Danny Chung

None
-

U.S. Representative from Nevada

(2011 - present)

(Campaign)

Withdrew: January 23, 2016

Endorsed Danny Chung

None
Timeline
Edit
Background
Edit
President Stuart Hughes' rising unpopularity following the Uzbek Hostage Crisis made him a controversial figure even within his own party. In April 2015, Minnesota Governor Danny Chung was the first to announce that he was starting an exploratory committee to see if there would be a chance to run for president, indicating his interest in challenging Hughes for the nomination in 2016.
Vice President Selina Meyer, basking in the positive press from an interview with Janet Ryland where she took responsibility for the hostage miscommunication, planned a presidential run in the 2020 presidential election, after running again for another term with Hughes in 2016. However, with Hughes not running for re-election, Meyer decided to run for president in 2016.
On October 18, 2015, Meyer announced her candidacy. In November 2015, Joe Thornhill, a former baseball manager with no political experience, announced his candidacy. George Maddox announced his resignation as Secretary of Defense in June 2015 and announced his candidacy in November. At the first primary debate, Thornhill came in first place, followed by Meyer, Chung, Nevada congressman Owen Pierce, and Maddox.
Joe Thornhill won the Iowa caucus in January 2016. Shortly before the New Hampshire primary, the presidential race was thrown by the resignation of Stuart Hughes and the swearing-in of President Selina Meyer. However, Meyer's initial blunders as president, including stoking tensions with Iran, placed her third in the New Hampshire primary. In an apparent upset, Danny Chung placed first.
In the subsequent primaries, the race winnowed to just Meyer and Chung. Meyer's 10-day world peace tour in the Middle East improved her popularity and she was able to achieve the party nomination.
Convention
Edit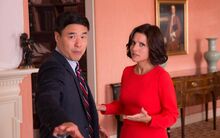 By the time the National Convention was held in Los Angeles that July, Meyer was able to secure the party nomination. Chung, Maddox, and Pierce all attended the Convention and (presumably) supported Meyer.
When Andrew Doyle, the vice president, announced he would step down, Meyer began looking for candidates, starting with Chung, who turned down the offer because he doesn't like how she operates. She then went to Maddox, who she turned down because she didn't like his sense of humor. In a deleted scene, she went to Roger Furlong, who was turned down in seconds because of his obscene language.
In the end, Meyer chose Connecticut Senator Tom James as her running mate, who was extremely popular.
See also
Edit
Community content is available under
CC-BY-SA
unless otherwise noted.