The 2016 Democratic National Convention was a presidential nominating convention, held in July 2016 in Los Angeles, California. The convention gathered delegates of the Democratic Party, the majority of which elected through a preceding series of primaries and caucuses, to nominate a candidate for President and Vice President in the 2016 U.S. Presidential Election. President Selina Meyer was chosen as the nominee, defeating challengers Danny Chung, Joe Thornhill, George Maddox, and Owen Pierce. Her running mate, Senator Tom James, was chosen by delegates as the party's nominee for vice president by acclamation.
Nominated Candidates
Edit
Convention Schedule
Edit
Day 2 is the primary focus of the episode Convention. Around noon, Vice President Andrew Doyle announced he was leaving the ticket. After learning that Republican Senator Bill O'Brien is planning on nominating Senator Laura Montez for Vice President, Selina sees an opportunity to gain someone more popular.
She immediately goes to Governor Danny Chung, whom she beat in the primaries. He, however, declines the role. She then goes to George Maddox, but is off-put by him and tells him the offer has been rescinded. In a deleted scene in the episode, she goes to Roger Furlong, but immediately says no after several vulgar comments of his.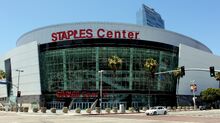 Around 5PM, hours until her speech, her campaign manager Amy Brookheimer resigns after suggesting Senator Tom James for VP. Despite being initially hesitant to the idea, Amy's meltdown prompts Selina to follow up on her suggestion, and brings James in, who accepts her offer of running-mate. Selina delivers her speech and celebrates with Tom afterwards, just as she appoints Kent Davison to campaign manager.
Coverage
Edit
See also
Edit
Appearances
Edit
Community content is available under
CC-BY-SA
unless otherwise noted.