2012 United States presidential election

---
---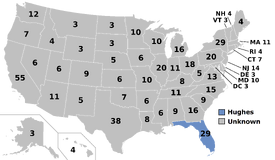 Presidential election results map. 

Blue

 denotes states/districts won by
Hughes/Meyer. 

Red

 denotes those won by the opposition.
Numbers indicate electoral votes allotted to the winner of each state.
---
The 2012 United States presidential election was the 57th quadrennial presidential election. It was held on Tuesday, November 6, 2012. Party nominee Stuart Hughes and running mate Maryland Senator Selina Meyer defeated unknown an unknown opponent. The election also decided the makeup of the 113th United States Congress.
Main article: 2012 United States presidential primaries
According to Fundraiser, Mike McLintock was the one who ran Meyer's failed campaign to become President of the United States. Meyer did very well in New Hampshire but did poorly on Super Tuesday, on which she conceded.
According to Mike, the two biggest mistakes of her primary campaign was she "looked tired and the hat. The hat hurt us". The two biggest mistakes according to Dan were that she "spent too much time in New Hampshire and the attack ads in Oregon came up way too soon. It made you look mean before you had to be mean."
Meyer claims that one of the reasons she joined Stuart Hughes on the ticket was because he looked like a "fossil" and his appearance would make her look younger by comparison. Hughes and Meyer accepted the party nomination for president and vice president at the 2012 National Convention in Milwaukee, Wisconsin.
Hughes and Meyer ran as pro-choice candidates during the election.[1] They were also able to take a large portion of the pro-Israel vote, allowing them to carry the state of Florida.[2]
In the general election campaign, Meyer became bitter with Hughes' senior strategist Kent Davison, primarily for forcing Meyerto appear more familial with her ex-husband Andrew, including a trip going river rafting, where Meyer at night had to hear "Andrew banging that skank on the riverbank". It was later revealed that Andrew's firm funded both sides in the general election.
Meyer would later recall the vice presidential debate in the election, against her vice presidential challenger Abraham Buttrick: "[It] consisted mostly of his extended recounting of his time as a POW in Vietnam and the terrible things that were done to him during it, which I was too respectful of the sacrifices of our brave men and women in uniform to interrupt but which didn't seem to help his side much."[3]
Hughes and Meyer ultimately won the election. On the night of the victory, Davison put Andrew on stage, with Meyer angry because it was her night, according to Meyer.
Hughes and Meyer were sworn in on January 20, 2013 and became president of the United States and vice president of the United States, respectively. In 2014, the party did poorly in the midterms, and the Uzbek Hostage Crisis further tarnished the reputation of Hughes, who decided not to run for re-election in 2016. Meyer decided to run and was ultimately unsuccessful.
↑ In The Choice, Hughes switches his position to pro-life.
↑

Referenced in A Woman First: First Woman.
Community content is available under
CC-BY-SA
unless otherwise noted.